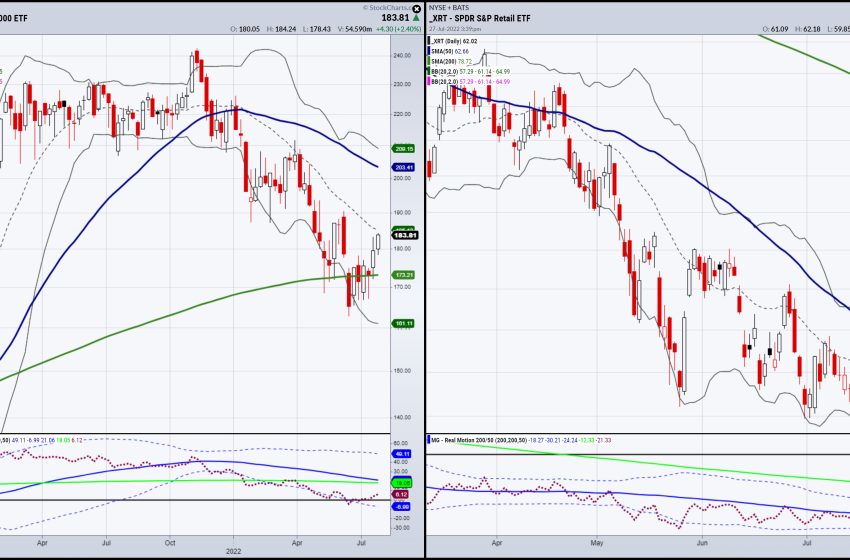 Mish's Daily: Granny Retail and Granddad Russell Dish Post-FOMC
Powell and crew raised the rates by .75 BPS in an attempt to continue the fight against inflation. He even said, "Another unusually large increase in rates could be appropriate, it depends on data." However, the market heard something different.
Sure, we rallied pre-FOMC and continued to rally thereafter. The market at this point hears that Powell didn't go 1.00 BPS and, ergo, is more concerned about the economy rather than inflation. In other words, no worries on recession, but, then again, no worries on inflation either.
So what do our very sane and very old Granddad and Grandma have to dish about?
The Russell 2000 (IWM) closed up 2.25%. Retail (XRT) closed up 2.52%. On the chart, IWM ran into resistance while remaining above the 200-week moving average. Could IWM go up more?
Yes if, first, junk bonds remain in risk on mode; second, if IWM can hold above 180; third, if IWM can close the week out over 183.30; and finally, if the huge drop in the 20+ year long bonds do not ultimately make this day a one-day wonder.
Granny Retail has bigger issues. Firstly, on the chart, XRT is under the 50-DMA and in a bearish phase. Secondly, XRT is just barely above the 200-WMA at 60.90. Also, if the Fed is perceived as not able to do the hard rate raise and control inflation, the consumer will continue to feel the pinch of higher prices on real goods.
Sure, growth stocks are enjoying a move up. How many times have we seen growth stocks outperform, only to look back and realize that Granny and Gramps are not following the bliss? We need real growth, not growth based on a $52 billion boost to the US semiconductor industry. So, we need to see XRT and IWM stay in the game.
Perhaps the rise in durable goods orders and wholesale inventories defies recession fears. It's possible, but, if IWM and XRT cannot move up from here, it will be because:
A) Inflation is just getting started and the Fed is way too lateB) We really are in a stagflation environment, meaning stagnating economy and no real growth in sight. Especially without the Fed juice.
Get your copy of Plant Your Money Tree: A Guide to Growing Your Wealth and a special bonus here.
Follow Mish on Twitter @marketminute for stock picks and more. Follow Mish on Instagram (mishschneider) for daily morning videos. To see updated media clips, click here.
Mish in the Media
In this video, Mish, along with the Bitwise CEO, discusses whether Fed can control inflation, the future of the rates, bitcoin, equities and commodities.
Read this week's article from Mish for CMC Markets, titled "A Trendsetting Week in the Markets (Part 1 of 2)".
In this interview by Dale Pinkert during the F.A.C.E. seminar, Mish examines different sectors using the 50- and 200-week moving averages.
Mish presents "Working as a Trader" on Business First AM.
Also from Business First AM, Mish explains what to look for before putting cash back into the market.
ETF Summary
S&P 500 (SPY): 403 big resistanceRussell 2000 (IWM): 182.50-183.50 point needs to clear 180 to holdDow (DIA): 322-323 resistance, 316 support Nasdaq (QQQ): 308 big resistance, 293 support keyKRE (Regional Banks): 60 key support; meh performanceSMH (Semiconductors): 230 now pivotalIYT (Transportation): Back over the 50-DMA, now has to holdIBB (Biotechnology): Support 120, resistance 129XRT (Retail): Has work to do; starts with getting back over the 50-DMA
Mish Schneider
MarketGauge.com
Director of Trading Research and Education