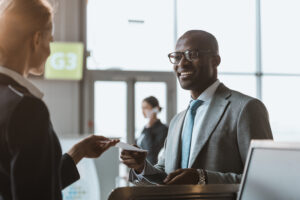 5 Reasons to introduce tech into your travel programme
Business travel's recovery is well underway, and things might feel a little chaotic at the moment.
There's no doubt that the travel industry is struggling to keep up with the sudden increase in demand and, according to the Global Business Travel Association's (GBTA) June 2022 Business Travel Recovery Poll, staffing shortages, supply chain bottlenecks and service delivery issues are all having an impact.
There is good news too, though. The GBTA reports that more than four in five travel suppliers (88%) are feeling more optimistic compared to a month ago; bookings continue to rebound, with most suppliers and TMCs (84%) reporting their bookings have increased month on month; and significantly, nine in 10 (88%) of GBTA buyer and procurement members feel their employees are "willing" or "very willing" to travel for business in the current environment.
Donna Joines, GM Corporate Traveller UK explains that after two lean years budgets are under pressure. And with the current fuel prices, many SMEs are wondering whether they can actually afford to travel again.
The solution? When it comes to saving money, navigating the current situation, tapping into travel support, and enjoying a much smoother journey overall, it's important to have a professional travel expert by your side – and the right tech at your fingertips.
If you're looking to upgrade your travel programme here are just five reasons to consider a travel management company (TMC) that pairs solid expertise with innovative tech solutions:
Faster and smarter booking
Researching and booking flights, hotels and hire cars that comply with your company's travel policy can take time. An online booking tool is supposed to make this process easier and quicker. To achieve this, look for a platform that lets you create specific rules and parameters for your travel programme.
In other words, one that can present your ideal options, instantly, without bookers having to waste time wading through pages of 'not quite right' selections.
Predetermined criteria will ensure that all available options are ready to book and policy-friendly – saving you plenty of time (not to mention frustration) when it comes to research, approvals and booking.
Recommended spend
The right tech can save you money too – if the platform takes your budget into account. Today's online booking tools (OBTs) can calculate recommended spend on things like hotels and flights, then pick the best options accordingly. You'll also get a holistic overview of past, present and future trips, meaning you can keep a handle on spend without any nasty surprises down the line!
More choice
When it comes to booking flights and accommodation, many do-it-yourself travel bookers remain convinced that there's a bigger selection on the Internet. This is not always true.
The more modern booking tools, like Corporate Traveller's Melon, deliver unique travel options that other providers often can't (or won't). This includes low-cost carriers, rail fares and car rental. Not only do these save you money, but they also help you meet the preferences of even the pickiest travellers!
Exclusive rates
Did you know that a global TMC can save you at least 10% on your total travel budget thanks to impressive buying power and razor-sharp negotiation skills? For example, the best global TMCs are supported by their own travel experts who negotiate the best rates on your behalf, which has an immediate impact on your bottom line.
Support, when you need it
When it comes to traveller confidence, tech plays a huge part. Handy travel apps can save your itinerary; keep travel documents in one place; and send you updated travel information and travel alerts (including flight delays or gate changes).
It's this kind of support that's invaluable to Alta Genetics, an agriculture firm with travellers travelling regularly to the Americas, Netherlands and Germany. Often issues crop up after hours, like when one of the team tested positive for Covid-19 and could not return home from the US to the UK. Fortunately, the after-hours team made sure the traveller was well looked after (no call centres here!) and rebooked onto a new flight home.
A solid TMC has a team of travel experts – backed by tech – who can help you with all your travel needs. Our team has years of experience, which is why we've packaged their knowledge in a SME Corporate Travel Toolkit. It will give you pointers on how to craft the perfect travel policy, where to find savings without compromising traveller safety, the pitfalls of unmanaged travel and so much more. Sign up today!
Read more:
5 Reasons to introduce tech into your travel programme