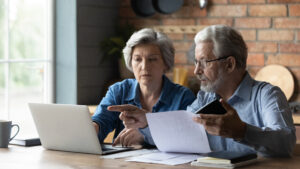 Cost of living squeeze hits pension contributions
More than one in ten adults have stopped contributing to their company pension or are planning to stop because their incomes have been squeezed by the cost of living crisis.
About 5 per cent of adults have ended contributions into their pension pots to save money as inflation hits a 40- year high of 9.4 per cent.
A further 6 per cent are thinking about pausing contributions and 9 per cent may consider doing so, according to an Opinium survey of 2,000 adults commissioned by Canada Life, the insurance and financial services group.
About eight in ten working adults had a pension in April 2020, up from fewer than five in ten in 2012 before the automatic enrolment scheme — which requires eligible employees to opt out rather than opt in to a pension — was introduced. The proportion of working adults with a pension rose until 2020, the first year to record stagnant levels of participation, figures from the Office for National Statistics show.
Modelling by Canada Life found that if a worker on £50,000 and 8 per cent pension contributions opted out of a company scheme for a year, it could, depending on their age, lead to a 4 per cent fall in the value of their final pension. Andrew Tully, technical director at Canada Life, said employees considering rejoining their company pensions should be aware they can typically only choose to start or stop contributions once a year.
"It's understandable that people feeling the pinch are considering opting out," he said. "Affording food and heating will take priority over saving. However, it's important to remember to rejoin a scheme as their financial situation improves."
The squeeze on household finances is expected only to worsen as the year goes on. The Bank of England expects that inflation will exceed 11 per cent in October, when winter energy bills are calculated. The Bank's rate-setting committee meets today to decide whether to raise interest rates for a sixth consecutive time.
Read more:
Cost of living squeeze hits pension contributions