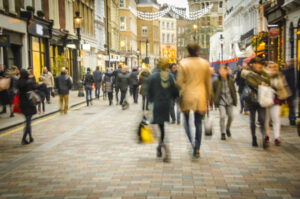 Post covid footfall gains are wiped out as shoppers stay at home
Footfall across retail destinations in Britain fell last month to 14.2 per cent below the 2019 level, wiping out all the gains made since April.
Some of the weakening in consumer activity was because of the extreme heat in the third week of the month, when footfall dipped to 16.4 per cent below the 2019 level from 12.9 per cent in the week before, according to the survey from Springboard Footfall Monitor and Insights.
Springboard, which is part of the High Street Taskforce, pointed to a "north-south divide emerging in terms of the recovery in footfall, indicating the impact of the proportionately greater burden of inflation that is being felt in the north".
It found that between January and July footfall increased from month to month by an average of 1.8 per cent in Greater London compared with 0.4 per cent in the north and Yorkshire, and in July footfall in Greater London was 27.4 per cent above the 2021 level versus 8.9 per cent in the north and Yorkshire, 7.2 per cent in Northern Ireland and 9.2 per cent in Scotland.
Springboard said for the rest of the year "we would normally expect footfall to peak in August and dip in September as the school summer break ends. In light of the increasing strain on household budgets as a consequence of inflation, we are anticipating that in August footfall will plateau or even drop away marginally by around 1 per cent from July, followed by a decline of around 3 per cent over the month between August and September."
Read more:
Post covid footfall gains are wiped out as shoppers stay at home