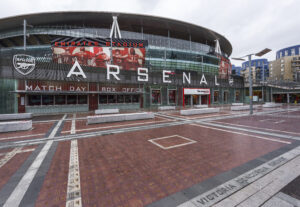 Arsenal FC's cryptoasset ads deemed 'irresponsible' by watchdog
Arsenal Football Club has been reprimanded by the Advertising Standards Authority (ASA) for a second time for an online post promoting a cryptoasset irresponsibly.
The advertising watchdog first raised the issue in 2021, when the Premier League team wrote in a post on Facebook "$AFC in now live $CHZ" and "What song do you want to hear when we win? Download the Socios app to get your token and vote".
The ASA took issue with Arsenal's initial post advertising the fan token as it was deemed misleading and failed to illustrate the risk of investing in cryptoassets.
Arsenal was also accused by the regulator of irresponsibly taking "advantage of consumers' inexperience or credulity" and trivialising "engaging with and investing in cryptoassets".
The Gunners appealed the decision made last year, claiming its ad did state fans might not be able to get their money back after purchasing the token, and that the value of the token could go down.
The decision was, however, upheld by the ASA. The watchdog found that the numerous social media posts and pages on the club's website promoted a high-risk investment without clearly communicating the financial dangers involved.
The watchdog also noted Arsenal FC's posts did not include any warning that its cryptoasset is currently unregulated in the UK.
It was ultimately ruled that any post from the club promoting cryptoassets of any kind cannot mislead viewers and must prominently include a warning stating the risks of investing.
Read more:
Arsenal FC's cryptoasset ads deemed 'irresponsible' by watchdog