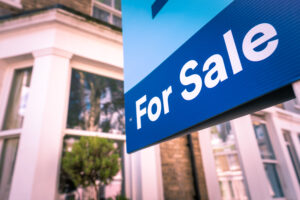 UK house prices fall by £5,000 in August
The average price of homes coming on the market have fallen for the first time this year, dropping by nearly £5,000 during August, according to Rightmove.
The average asking price across the country was £365,173, down 1.3 per cent. The property website said the drop was more likely to be due to the seasonal holiday lull than concerns about rising interest rates, the cost of living squeeze and slowing economic growth.
Tim Bannister, Rightmove's director of property science, said that some new sellers were pricing more competitively to secure a buyer quickly to beat the lengthy average time to completion and move home before Christmas. The average time at present between accepting an offer and completing the sale is four and a half months, Bannister said.
The fall in prices is on a par with the average August drop over the past ten years.
Average house prices are still 8.2 per cent higher year-on-year as demand has remained strong despite the ending of the stamp duty holiday last year.
Rightmove said that demand was softening and imbalances in the market remained. Buyer inquiries to agents were down 4 per cent on the same period last year and new listings were up by 12 per cent. Compared with 2019, the number of homes available for sale is down 39 per cent, while buyer demand has risen by 20 per cent.
The average asking price for first-time buyers outside inner London has dipped by 0.4 per cent over the month to £224,091. However, higher interest rates mean that average monthly mortgage payments for new first-time buyers putting down a 10 per cent deposit now exceed £1,000, at £1,032.
Business BriefingIn-depth analysis and comment on the latest financial and economic news.One-click sign up.
Despite this, demand for properties in the typical first-time buyer sector is 32 per cent higher than at this time in 2019, Rightmove said.
Bannister said: "Several indicators point to activity in the market continuing to cool from the lofty heights of the last two years. It's likely that the impact of interest rate rises will gradually filter through during the rest of the year, but right now the data shows that they are not having a significant impact on the number of people wanting to move. Demand has eased a degree and there is now more choice for buyers."
Rightmove still expects annual house price growth this year of about 7 per cent.
Read more:
UK house prices fall by £5,000 in August