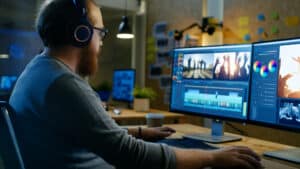 How To Create Powerful Videos For Your Small Business
Not only is video marketing a highly effective marketing strategy, especially when it comes to increasing brand recognition and sales, but it's also a type of marketing that's preferred by the majority of consumers.
In fact, a study shows that 96% of participants use video as a means to learn more about a product or service. Moreover, 84% believe that a company's video convinced them to avail themselves of a business' product or service.
With that said, it's safe to say that the majority of web users would rather watch an informative and captivating video than read blocks of text. That's why video marketing is now considered one of the leading marketing trends. If your business hasn't invested in one yet, make sure to have online video editing software that's not only fast and easy to use, but also meets all the needs of your enterprise, such as YuzzitPro.
Here are more details to consider so your small business can create powerful videos that can attract prospects.
Invest in the right video editing software
As mentioned above, the first step in creating powerful videos for your small business is to choose the right video editing software for your business. Take note that the video editing software will make or break the videos your business will create, which is why it's crucial to choose one that suits your company's needs.
When looking for video editing software, keep the program's user-friendliness in mind. Even if some software claims to be user-friendly, the interface may have a learning curve so users like you can get the most out of the program. Hence, if you're not comfortable with the software's interface, there's a huge chance that the software may not be the right one for you––you'll have difficulty learning the other functions offered by the software.
As a tip, read some honest user reviews before investing in video editing software. Also, make sure the video editing software has all of the features that you're looking for. By doing so, you'll get the most out of your investment as you can conveniently make powerful videos for your small business.
Make the first few seconds matter
Some users or potential customers have a huge tendency to skip ads or click away from videos. This means that the first few seconds of your video should catch the user's attention immediately. To make sure you get your prospect's attention, use content designed to keep your audience hooked. This may involve asking some relevant questions, dealing with some common problems they encounter, or sharing something that makes your business unique.
Don't forget that some users tend to have their videos during the first few seconds. Video previews will also show parts of your video without sound. With this in mind, a great online video marketing technique to apply is for your videos to have striking visuals. By having great visuals, you'll encourage prospects to unmute the video as they'll be interested in the video's overall content.
Tap into the viewer's feelings
When it comes to making purchases, some people tend to decide based on their emotions instead of the information being presented. This means that a video's way of tapping into the buyer's emotion is more important than the content of the video itself.
Instead of showcasing your products and services, your focus should be sending a message that appeals to the viewer's feelings. Think about how your products or services relate to your target audiences' values and feelings. Use that correlation as a guide when making content.
The video should be socially relevant
Now that you know the importance of emotions in creating powerful videos, the next tip to keep in mind is to keep your videos timely or socially relevant. Instead of limiting the video's content to your products or services. You should also delve into timely social issues, such as saving the environment or poverty. If applicable to your industry, you can even include family values or the importance of friendship in your video.
Ideally, you want your videos to cultivate the feeling of sincerity and empathy, both of which can also be the perfect venue to introduce your business values.
Takeaway
Video marketing can be the key to your small business's success. In fact, powerful videos are one of the biggest influences in increasing a business's sales. Keeping the following pointers in mind when creating your marketing videos will help you come up with clips that not only captivate your target audience but are also more likely to be shared to more people.
References
"Video Marketing Statistics 2022", Source: https://www.wyzowl.com/video-marketing-statistics/
"How Small Businesses Should Use Video Marketing", Source: https://blog.placeit.net/how-small-businesses-should-use-video-marketing/
"Emotional Advertising: How Brands Use Feelings to Get People to Buy", Source: https://blog.hubspot.com/marketing/emotions-in-advertising-examples
Read more:
How To Create Powerful Videos For Your Small Business