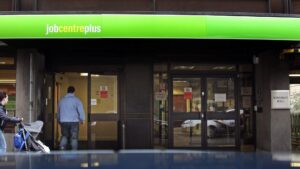 Wales only part of UK to see employment fall
Unemployment in Wales continues to be low but it has become the only UK area where the number of people employed fell in the three months to June.
The jobless rate is 3.8%, the same as for the UK as a whole, according to the Office for National Statistics (ONS).
Meanwhile, pay has dropped by 3% on the year when taking into account rising prices, according to its latest data.
Household budgets have been hit by soaring energy bills as well as higher food and fuel costs in recent months.
The figures show that Wales has also seen the biggest increase in the number of people not working but not available for work between March and June.
That could be for a number of reasons, including being unwell, caring for someone or being a full-time student.
As a result, across Wales there were 7,000 fewer employed in June than in the first three months of the year.
For those people in work, pay has been rising but with prices rising much more steeply, the ONS said regular pay fell at the sharpest rate on record between April and June .
In terms of what wages can buy, average pay fell by 3% across the UK compared with a year ago.
Prices are rising at a rate of 9.4% and there are warnings that the economy will stop growing and fall into recession.
Darren Morgan, director of economic statistics at the ONS, said the "real value" of pay was continuing to fall.
"Excluding bonuses, it is still dropping faster than at any time since comparable records began in 2001," he said.
Read more:
Wales only part of UK to see employment fall