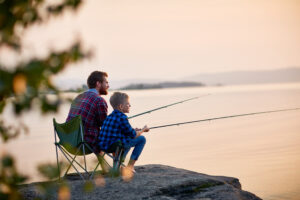 Angling Direct's sales dry up amid falling water levels after 'too hot to fish' summer
Anglers may love a warm, sunny day on the riverbank or at a lake, but this summer has proved too hot and too sunny, in turn hitting Britain's biggest seller of fishing tackle.
Angling Direct yesterday bemoaned "adverse fishing conditions" as it revealed disappointing recent sales and warned that its profits would fall short of previous forecasts. Its alert did little to cool wider economic concerns among investors and its shares, already down by a third this year, fell by more than 12 per cent, or 4½p, to close at 32p.
Angling Direct is by some way the biggest fishing tackle retailer in Britain. Its first shop opened in Wroxham, Norfolk, 36 years ago and it now runs 43 stores across the country, selling 20,000 products. Just before the pandemic took hold, it began an expansion into Europe and today has online shops in France, Germany and the Netherlands. After yesterday's share price fall, it is valued at about £25 million, in contrast with its float value of £27.4 million in July 2017.
August is typically a busy month for the retailer, but this year some lakes have started to dry up, while others have been blighted by algal blooms. At one fishery in Basildon, Essex, the Environment Agency reported that 1,000 fish had died after oxygen levels in the water dropped sharply because of algae.
Sales have been put under further pressure by rising prices, which are squeezing people's disposable incomes. "There has been an inevitable impact from the cost of living pressures, declining consumer confidence and unavoidable inflationary pressures on trading," the company said. Sales on the Continent have been affected "to a similar extent" by the hot weather and plummeting consumer confidence.
In the six months to the end of July, Angling Direct turned over £38.9 million, marginally more than it achieved over the same period of 2021. Sales had been comfortably ahead in its first quarter, before tailing off over the spring and summer. Online sales in the first half were 7.9 per cent lower year-on-year, but this had been expected, given that some restrictions were still in place at the start of 2021. Considering the emergence of the "market headwinds", the company now expects this year's sales to be "marginally below" the £82 million that the City had expected previously.
The biggest hit is to the bottom line. The expectation had been for Angling Direct to turn an annual underlying profit of about £4.3 million. The company's bosses now think that the figure will be at least 20 per cent lower than that at somewhere between £3 million and £3.4 million.
Read more:
Angling Direct's sales dry up amid falling water levels after 'too hot to fish' summer