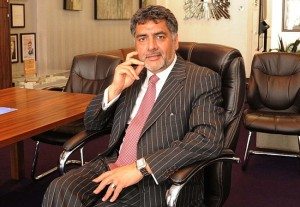 Precisely, What is the point of you? What do you do, exactly?
If you don't intimately understand your major 'doing self' along with minor 'doing selves' you can come across like marbles scattered across the floor
One of the true experts in harnessing personal image for business success is former BBC Dragon James Caan CBE. A sharp-suited, no nonsense operator.
I spent 7 years representing his PR and worked with Caan again recently on one of his projects.
There's a clear dividing line right at the summit of Caan's media persona, which he instinctively knows how to curate and deliver.
He has Hamilton Bradshaw, the private equity and investment company as a corporate brand – which he is the CEO of. That's one side of the dividing line.
But then he also has The Office of James Caan CBE staffed up and totally separate. And its this division that handles appearances, endorsements, and speaking engagements.
He injects his personal profile across a plethora of businesses – not just Hamilton Bradshaw at the very top, but a whole host of investments.
Below is the short biography and description of James Caan published on the website of The World Economic Forum:
'James Caan is a Serial Entrepreneur. He is CEO of Hamilton Bradshaw Group, a private equity firm that focuses on buyouts and development capital and special situations, including turnarounds. He is CEO of 'Recruitment Entrepreneur' a seed capital investment company, and Investor at Spacious'.
Arguably the 'James Caan CBE' personal brand is the ultimate definition of the serial entrepreneur having stakeholdings in everything from dog treadmill, Fit Fur Life, on Dragon's Den through to recruitment companies.
But you can't get anywhere in the media jungle by simply taking a 'scattered marbles across the floor' approach with 100 different companies who you somehow personify and endorse.
It's not a dog treadmill, but would be a dog's dinner.
What is Caan ultimately known for doing? What does he actually do, in simple speak?
You must adopt the academic structure of an American University, in fleshing out your 'doing selves'.
In these universities, students Major in one particular subject.
You must do this no matter how much you hate being 'pinned down' or 'restricted' and 'defined'.
Then you can have a myriad of Minor subjects. Lots of other subjects can make up your portfolio.
Caan instinctively subdivides all of his interests into hubs and applies communications emphasis and weighting to the different areas.
At the top he's the 'People's Dragon' and TV Entrepreneur, forever defined by the status his BBC Dragons' Den stint between 2007 and 2010. 'The Chairman of the Board' is his catch-all persona. His publicity pictures are often shot at a Board room table with him looking like he's approachable but seriously means business.
When I organised for Caan's electronic book rights to be given to Reach Plc to offer them as a giveaway to their readers in November 2020, the value from James was millions for their readers who love him as 'The People's Dragon'. He did a Facebook interview with Fleet Street Fox for the Mirror. But all the Reach Plc national newspapers ran the promotion from the Daily Record, the Daily Star to the Daily Express. All the Reach Plc regionals from the Birmingham Post, to the Manchester Evening News also ran the promotion, some on their front page. The joint reach of Reach Plc is 45,000,000 eye balls. This is very hearts and minds sell and was linked to Caan helping people out during the crisis of Lockdown with Caan positioned as the 'People's Dragon'.
I helped drive and define his role as the Chairman of the UK Government's Start Up Loans scheme in May 2012 when David Cameron appointed him to the role. Again this tapped into him being 'The People's Dragon'.
It's a very 'catch-all' 'emotional' sell.
This might represent roughly 50% of Caan's communications output.
Its interesting how many high-profile personalities aspire to the definition of being seen first and foremost as a serial entrepreneur – but ultiomately they can't.
Rapper Kanye West is very much defined as a rapper first and entrepreneur second. His business Yeezy, was valued at US$3 Billion by Bank of America in 2019. Infact the bulk of his US$1.8 Billion fortune comes from this sneaker brand. Yet, nonetheless, Kanye West is still defined as first and foremost, a rapper.
TV mogul Simon Cowell is not just a TV boss, which is his Major but also commonly listed as an entrepreneur. JK Rowling is also considered an entrepreneur by many entrepreneurial Top 10 or Top 50 lists. But people would clearly describe her as first and foremost an author. That's her Major.
Its decision time, in terms of your bold approach at glory.
What are you going to Major in?
Is 'Serial entrepreneur' becoming the masthead of your boat to power forward into the oceans?
In terms of his suite of Minors, leaks break it right down in terms of James Caan.
Caan's very much a Property entrepreneur, respected by property journalists specifically in this vertical. Property Week did a big feature on him when I represented Mailbox REIT. They know he's got credibility in the property sector as he has a vast property portfolio and wanted to hear his views.
This might represent 10% of his communications output.
But he's particularly big on being 'The Recruitment Entrepreneur' also. So much so he's even created sub-brand called 'The Recruitment Entrepeneneur', to harness and power forward his image into at least 30 different recruitment agencies which he has a financial interest in.
He's well respected by recruitment sector journalists.
He's got to be careful the tail doesn't wag the dog in this recruitment sector vertical because of the sheer enormous back story he has in this having founded both Alexander Mann and Humana International, today with joint turnovers of over US$1 Billion between them.
It would be particularly easy for Caan to become 'lead' by Recruitment.
Certainly, lots of his media requests automatically come in for Caan to talk about workplace satisfaction, the Furlough scheme during Lockdown, the four-day working week. Journalists often see him as 'Mr Recruitment'.
But that's not what he wants to ultimately define him. So a careful balance has to be maintained.
This would represent up to 20% of his communications output.
The Asian ethic minorities champion is something I helped developed as a high profile Pakistani national living in Britain. He was Chairman of the British Muslim Association. He invested in a Sharia fund. He encourages young people from Asian backgrounds to excel in business.
This would be a 10% focus.
The Philanthropist is the fifth strand to his communications matrix. When the Pakistan Floods struck in 2010, it was natural for me to help James speak to Britons about digging deep financially for his home country which was in crisis. He flew with ITV to Pakistan. He paid to build the Abdul Kashid Khan Campus, via the James Caan Foundation, for 400 underprivileged young people in a rural village in Pakistan just outside Lahore.
For a time, he essentially became the Pakistani Bob Geldof as I had him across BBC Breakfast, Good Morning Britain and everywhere else calling out for Brits to help out in Pakistan's hour of need.
I also steered him towards becoming Chairman of The Big Issue for a time, the magazine which helps the homeless, which underlined his Philanthropic credentials well and truly.
This philanthropic aspect would be about 10% of his focus and communications output.
So, that's 1 Major and 4 Minors that make up James Caan's communications mix.
The sixth hub is less glamorous and one that is not emphasised whatsoever, although interestingly, it was picked up on by the World Economic Forum in them touching on him as specialising in 'turnarounds'.
That's essentially the acquisition of distressed assets. Caan often invests in companies that have gone bust and literally phoenixes them from the ashes. But this is not so glamorous and therefore Caan has consciously chosen to not focus on this aspect of his business dealings in the media whatsoever.
So the weighting here is 0%.
With this all worked out, you then need to weigh it all up in terms of the emphasis you place on them in terms of the quantity of content you create around each of the 'themes' and the effort you place on getting traction in the media against each of them.
Once you've defined what you, be careful not to step outside the grid.
One of the biggest blowups I've ever seen in my time as PR was the time in 2010 that I happened to be representing, for a time, the PR for both former Dragons' Den star Duncan Bannatyne and James Caan simultaneously, but handled very separately.
The competitiveness amongst the Dragons' was very fierce, and even though Bannatyne was ok with it on the surface, the fact Caan hired his PR, Richard Hillgrove, probably didn't go down too well.
Bannatyne finally had a meltdown when Caan 'got totally on Bannatyne's turf', from Bannatyne's perspective, in terms of him owning the health club space.
Caan acquired Nuyuu, a health club, which he sold to Energie group in 2010.
Banntyne's main business was and still is Bannatyne Fitness.
This off-brand 'hostile act' by Caan was enough for Bannatyne to refuse to talk to Caan ever again, quite literally, and he started sending dossiers to national newspapers to try to destroy Caan.
The last series of Dragons' Den they were on together, Bannatyne refused to look at Caan or talk to him even once.
All their previous investments together – including ChocBox – were all thrown into chaos, as Bannatyne caused there to always be two separate Board meetings – one with Bannatyne present, and another one with Caan present. It got ridiculous.
Bannatyne took umbrage to Caan stepping off his verticals and into his health club space.
So define what you do and don't deviate.
At all times, every aspect can be tweaked and updated as we gather more data and feedback.
Read more:
Precisely, What is the point of you? What do you do, exactly?