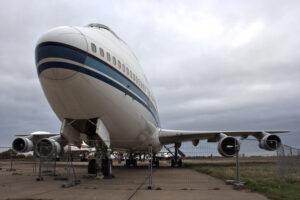 London to get new airport as Manston is cleared for take-off
London is to get a seventh international airport after the Department for Transport cleared the redevelopment of the closed Manston runway in Kent, overruling the deep environmental misgivings of the Planning Inspectorate.
Plans to revive the former RAF Manston, close to Ramsgate and Margate on the Channel coast, have been the subject of years of wrangling. It was repurposed as a commercial airport but not very successfully and closed to air traffic, seemingly permanently, in 2014.
Grant Schapps's department has given the green light for a £500 million development of a passenger and freight aviation hub that will join Heathrow, Gatwick, Stansted, Luton, City and Southend in being named as London airports.
The decision came despite opposition from the government's key adviser. The Planning Inspectorate had concluded that the project "failed to demonstrate sufficient need . . . additional to (or different from) the need which is met by the provision of existing airports".
It highlighted issues ranging from environmental — carbon emissions and noise — to operational impacts on the local community and road network.
Manston, a Battle of Britain airfield and test-bed for the Dambusters during the Second World War, has served a vital role recently as a huge car park for lorries unable to cross to the Continent during the periodic closures of the ferries or the Channel tunnel.
For the past five years a private developer and investor, Riveroak Strategic Partners, has been seeking a permit for the re-opening of the airport.
If all goes to plan the first take-offs and landings at Manston will be in 2025. There is talk of 10,000 flights a year and the creation of 23,000 jobs.
Tony Freudmann, a Riveroak director, has said: "Manston will be one of the most modern, efficient and environmentally friendly freight hubs in the world."
Alex Chapman, of the New Economics Foundation, told the New Civil Engineer industry website: "This summer we had our clearest sign yet that the climate crisis is here and yet the government has overruled its own advisers to approve development of Manston Airport."
Read more:
London to get new airport as Manston is cleared for take-off