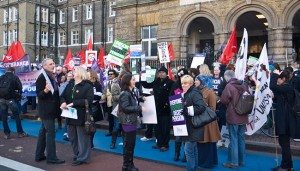 Strikes take their toll on multiple sectors
Six per cent of businesses were affected by industrial action last month as disputes over pay, jobs and working conditions led to worker protests.
Of businesses affected by strikes, nearly a third said their workforces had not been able to perform their roles as a result, while another 20 per cent said staff had been forced to work from a different location. Healthcare and social work were affected most, comprising about 10 per cent of businesses hit by industrial action last month.
The proportion of businesses reporting strikes was roughly the same as in June, according to figures from the Office for National Statistics.
Thousands of workers across several sectors have taken or are considering taking strike action over pay offers that fall short of inflation, which hit 10.1 per cent in July and is expected to rise further, with widespread industrial action billed as the biggest in Britain since the 1980s.
Railway unions are in dispute with the government and railway companies over pay, job cuts and changes to the terms and conditions of their work. Strikes in recent weeks left a fifth of trains running on some days, with no service in parts of the country. No further strike dates have been set but it is likely there will be more.
Barristers are going on strike indefinitely from September 5 in a row with the government over pay, conditions and legal aid funding. Four days of postal strikes that begin today are expected to deliver a £100 million blow to Royal Mail, which is in a dispute with the Communication Workers' Union over pay and modernisation.
In terms of nationwide disruption to both businesses and consumers, the eight-day strike at the Port of Felixstowe in Suffolk — Britain's biggest gateway to global trade — could disrupt supplies to supermarkets and exports until Christmas. Dockworkers are demanding a pay rise because retail prices inflation is at 12 per cent and in recognition of the work they did to keep the economy going during the pandemic, when they accepted below-inflation pay settlements.
Maersk, the world's largest shipping line, is cancelling calls into the port and is diverting traffic to Antwerp, Le Havre and London Gateway on the Thames.
Read more:
Strikes take their toll on multiple sectors