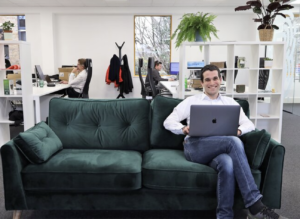 Key learnings on what is needed to successfully manage growth 
Business growth can happen in many ways – are you ready for the momentum that comes with it?
When momentum takes hold, be it from a viral moment, an act of mother nature or planned, business leaders can suddenly find their model or proposition is tested beyond belief as it learns to respond to enhanced demand. What once was a dream for them can start to feel like a nightmare if they do not possess the right tools or make sure sound  infrastructure is in place. 
How can business leaders ensure growth does not deter them from their ambition as they navigate their way through one of the most challenging yet exciting times for a growing business?
Here Dr. Tom Mason, Founder and CEO of Bramble Energy – a hydrogen fuel-cell company – shares his experience and learnings since developing the unique piece of technology and launching the business in research labs at Imperial College London and University College of London in 2016.
In six years, the business has proven to be a real game-changer in solving key issues in the production of hydrogen fuel-cells. Earlier this year, the firm closed a £35m investment round which will be used to help the business grow its UK-based team to over 100 (currently at 60) and take it one step further to achieving its goal of becoming the largest fuel-cell supplier in the world. 
Never forget the mission
With growth can come complacency and although you are likely to adjust your thinking along the way, it is imperative that you never forget why you started out on this journey. Going back to your mission can be a useful and important tool when strategising your next steps. Wherever you might be experiencing growth, whether it is your team, your revenue streams, or the markets you plan to insert yourself into – the question should always be 'Does this feed into our mission? Will this growth ultimately help us reach our goal?'
Growing a business is no easy task but for me, it is about setting the best possible example and reaffirming Bramble Energy's goal daily. Of course, we want to be successful and the go to name in clean technology but as we move forwards I want to see success for every individual member of our team who make Bramble the company it is today (and tomorrow).
Always be ready to be agile
When experiencing a period of growth, it is an important exercise to plan and understand what your outlook may be in the near and distant future, with your strategy being imperative to securing your future growth plans. You should be ambitious and use the deep dive knowledge of your marketplace and your competitors to your advantage. Are there companies in your field who have experienced a similar period and how have they been successful with it or what errors did they make that perhaps we could avoid? 
Dependent on how your business model works, your strategy is a helpful resource to help you navigate the unknown and to respond to the varying opinions of different stakeholders on how best to move forward. Never forget no one understands your business and how it has got to where it is, better than you. With all the will in the world, you cannot plan for everything, and it is in these moments that you must be agile and ready to adjust. Opportunities or risks will present themselves when you least expect it, and it will ultimately be up to you to solve and learn from these moments.
People are your greatest asset
If part of the growth you are experiencing is your team, then it will be important to not lose sight of what the foundations are of your business. There are areas where your knowledge may be limited and the people you choose to be a part of your journey are your best asset where you can always learn something new or look at your business from a different lens. The infrastructure that you start to build from within will be integral in protecting your mission, your business and your team.
Mistakes will be made – this is inevitable, but you can either learn from them and persevere or give up. If you believe in what you are doing then you only have one option. The people who you choose to take on the journey with you are so important especially in those moments when things do not go the way you expected or wanted. A support network is key in hitting the targets you make for yourself as they can provide a different point of view when you are too close to the issue to resolve it.  
Embrace the rollercoaster of growth
Don't be afraid of the pace in which things can develop. Use this to your advantage. There will always be tough times during business growth; it's how you weather the storm and learn at each turn that will make the difference, and ultimately lead to success. 
Read more:
Key learnings on what is needed to successfully manage growth