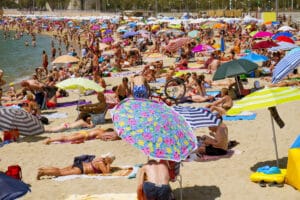 Sun and strikes deter high street shoppers
Visits to the high street remained 13.6 per cent below pre-pandemic levels last month as hot weather and rail strikes took their toll.
However, August did represent an improvement of 2.3 percentage points from July, according to the British Retail Consortium, which compiled the data.
The industry body hailed a "modest" recovery from pandemic lows. Total customer numbers throughout the UK — including in retail parks, shopping centres and high streets — were down by 12.4 per cent last month on 2019 levels, a rise of 1.8 percentage points on July. This was worse than the three-month average decline of 12.3 per cent.
England reported the shallowest decline of the UK nations of 11.2 per cent, followed by Northern Ireland at 11.5 per cent and Wales at 13.1 per cent. Scotland again suffered the steepest decline, of 14.8 per cent, despite the Edinburgh festival boosting trade.
Helen Dickinson, the consortium's chief executive, said rising inflation had deterred spending. "While footfall in August continued its modest recovery towards pre-pandemic levels, the rate of improvement slowed," she said. "Many people are concerned about the rising cost of living and the price of their energy bills, which has kept them away from high streets and town centres."
She called on the next prime minister to freeze the business rates multiplier next year to prevent inflation leading to higher prices for customers.
Andy Sumpter, a retail consultant for Sensormatic Solutions, said the heatwave and train strikes had "cooled shopper numbers for periods during the month". He said retailers would be looking ahead to autumn and Christmas trading "with an air of caution as the cost of living crisis continues to play out".
Diane Wehrle, marketing and insights director at Springboard, which also provides monthly insights on UK retail numbers, said that "many consumers took a much-longed-for and deferred summer holiday during August . . . creating what might be seen as the 'last hurrah' before the rise in the energy price cap kicks in during October".
Springboard expects "the traditional dip in footfall from August to September as schools go back", having reported a downturn during this period every year since it started publishing its data in 2009. It is anticipating a drop at least equal to or greater than the fall of 3.3 per cent recorded in 2019.
Read more:
Sun and strikes deter high street shoppers