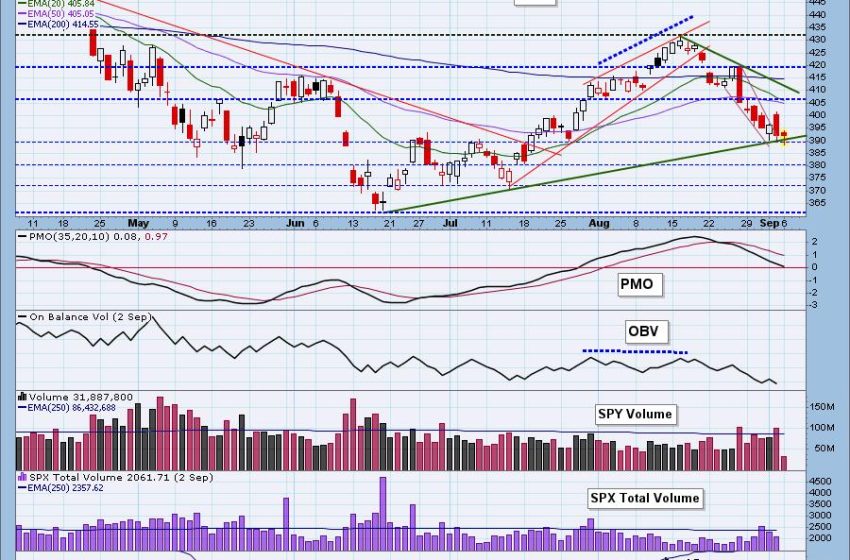 Decline Stalled by Short-Term Technicals
For the last three trading days the SPY decline has stalled, and price has settled on the 390 level, at which we can see an horizontal line of support and a rising trend line converging to support price. The VIX is somewhat oversold, but nothing to write home about.
The most potent reason for the decline's pause, in our opinion, is revealed in the conflict between our short-term and intermediate-term indicators. The first two panels below show that the Swenlin Trading Oscillators for breadth (STO-B) and volume (STO-V) have fallen from overbought levels and have reached oversold levels as of Friday, implying that short-term internals are pushing for a short rally.
The problem is that the intermediate-term IT Breadth Momentum Oscillator and IT Volume Momentum Oscillator (ITBM and ITVM) have also retreated from overbought levels, but are currently only in the neutral zone. We expect to see them fall further until they reach oversold levels, meaning that the longer (and stronger) internals are pushing for a continuation of the decline.
How will these conflicting internal pressures be resolved? Possibly we will see a short rally to relieve the short-term oversold condition, or price may continue to churn while short-term indicators move higher. In any case, we expect that the intermediate-term push for lower prices will eventually prevail.
Caveat: I am taking an extraordinary risk posting this article while the market is open — anything can happen. in the next three hours. It would much safer to wait until the market closes, then I would be right for at least 18 hours, until the market opens again. What the heck, damn the torpedoes!
–Carl Swenlin
Technical Analysis is a windsock, not a crystal ball. –Carl Swenlin
(c) Copyright 2022 DecisionPoint.com
Helpful DecisionPoint Links:
DecisionPoint Alert Chart List
DecisionPoint Golden Cross/Silver Cross Index Chart List
DecisionPoint Sector Chart List
DecisionPoint Chart Gallery
Trend Models
Price Momentum Oscillator (PMO)
On Balance Volume
Swenlin Trading Oscillators (STO-B and STO-V)
ITBM and ITVM
SCTR Ranking
Bear Market Rules
DecisionPoint is not a registered investment advisor. Investment and trading decisions are solely your responsibility. DecisionPoint newsletters, blogs or website materials should NOT be interpreted as a recommendation or solicitation to buy or sell any security or to take any specific action.