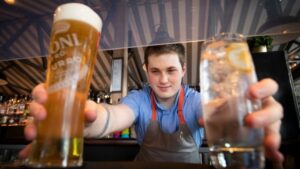 One in five hospitality firms 'will go under' without government support
Hospitality bosses are warning that one in five businesses in the sector will not survive the current crisis and that hundreds of thousands of people will be left without jobs unless government support is received.
Nearly 300 chief executives have signed an open letter asking the new chancellor, Kwasi Kwarteng, for "a plan that cuts business costs, stimulates demand and tackles inflation".
Signatories include the bosses of Just Eat, Marriott International, Mitchells & Butlers, Pizza Hut and Caffè Nero, along with dozens of representatives from smaller pubs, restaurants and hotels.
UKHospitality, the trade body, published figures based on a survey of 150 businesses, which suggest that one in five believe they will not survive the cost of living crisis and that three in five are already no longer profitable.
Energy bills for respondents rose on average by 238 per cent.
Average energy costs as a proportion of turnover have jumped from 5 per cent in 2019 to 18 per cent.
Energy bills are now the second largest business cost, and a bigger proportion of turnover than rent and rates combined.
Three quarters of hospitality businesses said that they were being forced to raise prices to cope. More than 60 per cent said that they were reducing staff hours, with 40 per cent cutting staff and half reducing trading hours.
UKHospitality expects the cost of living crisis to result in a £25 billion loss in trade, which could lead to a 15 per cent drop in employment, equating to 383,000 jobs.
Chief executives have put forward a five-point plan of action through to next April, which includes reducing hospitality VAT to 10 per cent, granting a business rates holiday for hospitality premises and deferring environmental levies.
They also want the Treasury to reinstate a "generous" time-to-pay scheme for taxes and reintroduce a trade credit insurance scheme for energy.
Kate Nicholls, UKHospitality's chief executive, said: "The new government needs to act quickly to address the soaring energy costs that are strangling the sector."
Read more:
One in five hospitality firms 'will go under' without government support