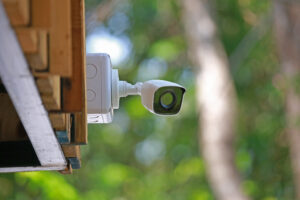 The Best Technologies To Help You Make Your Home Safer In 2022
Your home is your castle. You would do anything to protect it from the inside and out. This guide will give you tips on the best type of technologies that will make it safer in 2022.
If you are looking for a home security system you can depend on, our monitoring service by Smith Thompson will be your best bet. We'll provide you with whatever your needs and preferences call for so your home is safe.
Let's take a look now at the following technologies that will best suit your home in 2022.
Smart Locks
People are still using house keys to lock and unlock their doors. Sometimes, they may leave them home and lock themselves out by accident. Smart locks on the other hand will reduce the use of keys.
You'll have keyless access to your home using a touch of a button or even motion sensors that identify you. Never again will you worry about having to fish for your keys. You can operate them whether you're at home or away from it.
If someone you know is a trusted person to enter your house, you can grant them access. Just one touch of the button and they're in. Smart locks will make your home more secure while keeping uninvited people out.
CCTVs
You want to know what's going on inside or outside of your home when you're out. CCTVs will use cameras from your home security system and you'll be able to watch everything in real time. These will come in handy whenever you need to keep a close eye on your home.
These will also work well when you get a notification of a person near your property. It may be someone you're unfamiliar with and they might be suspicious. It will keep your eyes sharp and you may want to use the videos to provide for the police in case something happens.
Video doorbells
People can arrive at your doorstep at any time. This is where those doorbells with built-in video cameras will come in handy. With a press of the button, the video camera will kick on and you'll see who is at the door.
Some of the video doorbells will start recording the second they detect some kind of motion. You'll see what's going on right in front of your door. You should be able to get something with good enough video quality to pick up on faces, especially if they are some kind of suspicious person.
Smart lights
Smart lights can automatically turn on or off if you schedule them for a certain time. You can even switch them on in case you notice anything suspicious going on outside. It will look like you're home (even if you're really not).
These lights can include indoor lights for your home. They can also include floodlights with built in cameras. They will prove themselves useful no matter where they are in the house.
Most smart lights will also be able to function by the sound of your voice. Using Alexa or Google Assistant, you can request for the lights to be turned on or off or change a certain color. Depending on the lights you get, there is so much that you can do.
Water leak sensors
Water damage is a serious issue that can take a toll on your home. If untreated, it can cause mold growth and pose health issues for you and your household. If your pipes burst and water leakage occurs, having a sensor that will communicate with your smart home system will be key.
You will be notified about the leak and in turn will have it repaired. Then, the damage needs to be cleaned up. You could do it yourself or enlist the help of professionals that specialize in water damage remediation or similar services.
You may never know about water leaks until you get home and parts of it are flooded. Or you can have water leak sensors in place and you'll be able to stop further disaster from happening in no time.
Smart fire detectors
Fires can be devastating to a home. They can start out small and grow in size. Soon, they can spread quickly and engulf the entire house.
Smart fire detectors will pick up on smoke, which could ultimately be coming from a fire in your home. Once detected, you will be notified and the fire department will be called over. These will come in handy whether you're at home or not.
Place these in your kitchen and bedrooms inside your home so you have that extra layer of safety you and your family need. If there is one thing no home should ever go without, it's proper fire detection.
You will be alerted and given the chance to escape as outlined by a fire escape plan. If you don't have one in place, now is the time to do so. You may never know if or when you're going to put it to good use.
Plus, tragedy can happen where people may die in fires (mostly from smoke inhalation). Don't take your life (or your family's life) for granted. Make sure you have the adequate fire protection that you need for your home, even if you need to purchase an entire security system that provides you burglar and water leak protection along with it.
Final Thoughts
If you are in search of technology that will make your home safer in 2022, six of these devices listed above will be exactly what you need. Smart technology will be perfect for keeping your home safe inside and out.
You'll be able to see what's going on whether you're in one room or miles away. As long as you have a good quality security system set up, you'll have peace of mind knowing you can keep an eye on the place or be notified whenever potential trouble starts to happen. Consider your options today and keep your home safe and smart.
Read more:
The Best Technologies To Help You Make Your Home Safer In 2022