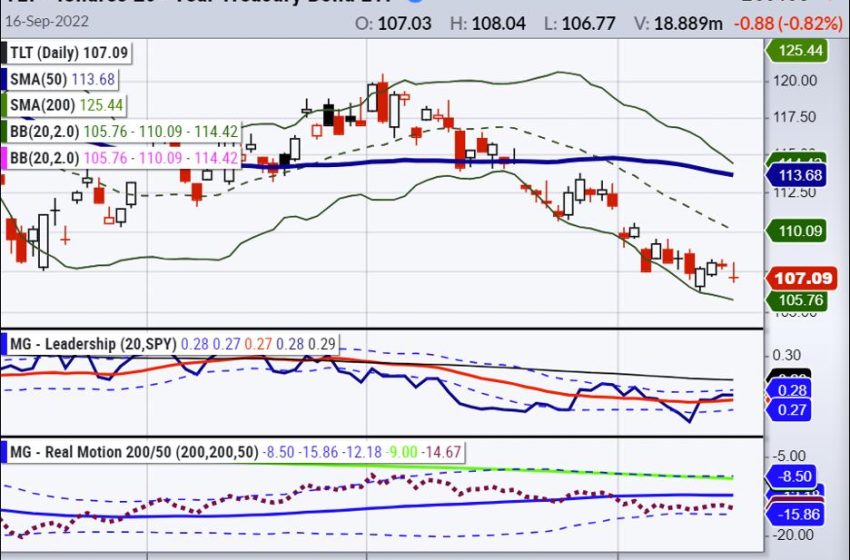 Weekend Daily: Thinking Ahead for Trading Next Week
The market took another turn for the worse this past week, with four weeks in a row in the red and the DOW futures dropping, testing significant support from the summer. With the upcoming Fed meeting and higher rates coming to control inflation, we are watching a few themes.
Here are Five Themes to Trade Next Week:
1. Stock or Bonds? Or both? Neither? Not only have stocks lost significant value, but the long bonds TLT performed just as poorly. But maybe that is about to change?
The long bonds, or TLTs, are potentially bottoming, and investors tend to buy TLTs to avoid losses in their portfolio. If so, what does this mean for the US dollar? Duration? Growth?
2. Commodities continue to outperform the SPY (silver outperforms gold, and gold is already outperforming SPY). This means that, although silver and gold prices may be volatile, they are to retain more value for your dollar. Could commodities be waking up and precious metals leading the way?
3. Food prices remain high, and the cost of groceries continues to increase rapidly. Food inflation can have far-reaching consequences for both individuals and economies. Inflation is the silent killer of your wealth. The value of money is eroding almost daily, so it is essential to invest in inflation hedges, specifically in areas of food, and there are several ways to trade, protect, and profit from inflation.
4. The 1978-1980 trading range in the indices supplants the fears of a major crash. A trading range is when the prices of an asset become restricted within upper and lower limits for a sustained period of months, or even years. In other words, trade price and not fear.
5. China waking up or potentially going back to sleep. Investors and CEOs alike are worried about the future of the Chinese economy. With a slowing economy, growing unemployment, and an impossible ZERO COVID policy, China is wobbling right alongside their property market.
There are a lot of factors weighing on the market, and these five themes are important to watch and, more importantly, to trade them as the Fed meets next week.
As always, watch the price charts.
To learn more about how we invest profitably during these times, please reach out to Rob Quinn, our Chief Strategy Consultant, by clicking here.
Mish's Upcoming Seminars
ChartCon 2022: October 7-8th, Seattle (FULLY VIRTUAL EVENT). Join me and 16 other elite market experts for live trading rooms, fireside chats, and panel discussions. Learn more here.
The Money Show: Join me and many wonderful speakers at the Money Show in Orlando, beginning October 30th running thru November 1st; spend Halloween with us!
Get your copy of Plant Your Money Tree: A Guide to Growing Your Wealth and a special bonus here.
Follow Mish on Twitter @marketminute for stock picks and more. Follow Mish on Instagram (mishschneider) for daily morning videos. To see updated media clips, click here.
Mish in the Media
Mish and Jon discuss global recession and the 9/21 US FOMC decision impact on BNN Bloomberg.
Mish gives several actionable trading ideas for your watchlist in this TD Ameritrade interview.
See Mish's latest article for CMC Markets, titled "Can the Fed Still Engineer a Soft Landing for the US Economy?"
Mish joins Business First AM to examine the question "will the market go off-track?"
Mish sat down with Yahoo Finance to talk about headwinds that could stall the rally.
Mish hosted the Monday, September 12 edition of StockCharts TV's Your Daily Five, where she discusses the most influential aspects to the market, from the dollar, to bonds, to commodities.
In this appearance on Cavuto Coast to Coast, Mish, Jonathan and Neil discuss inflation — somehow, it all comes back to that.
Mish joins Maggie Lake of Real Vision Finance to talk about key levels for stocks, bonds, crypto and the dollar. Mish also shares critical information about hot sectors such as solar and EVs, emerging markets and trends, and the all-important commodity sector.
ETF Summary
S&P 500 (SPY): Confirmed bear phase; 382 support, 396 resistance.Russell 2000 (IWM): 176 support, 180 resistance.Dow (DIA): Confirmed bear phase; 305 support, 309 resistance.Nasdaq (QQQ): 285 support, 292 resistance.KRE (Regional Banks): 62 support, 63.25 resistance.SMH (Semiconductors): Confirmed bear phase; 200 support, 206 resistance.IYT (Transportation): 214 support, 217 resistance.IBB (Biotechnology): 121 support, 124 resistance.XRT (Retail): 61 support, 64 resistance.
Mish Schneider
MarketGauge.com
Director of Trading Research and Education