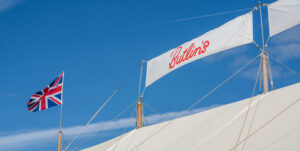 Former owners buy back Butlin's from private equity in £300M deal
The media-shy billionaire family which owned Butlins for 21 years until last year has bought the holiday resorts business back from its private equity owner in a £300 million deal.
Blackstone, which bought Bourne Leisure, the tourism group, for £3 billion last year, has carved out the Butlins offshoot, removed its property interests and sold it back to the family headed by the co-founder of Bourne, Peter Harris.
Butlins, which owns three holiday resorts in Skegness, Lincs; Minehead, Somerset; and Bognor Regis in West Sussex, attracts more than 1.5 million visitors a year. Founded in 1936 by Sir Billy Butlin, it became synonymous with a particular kind of budget British seaside holiday — with knobbly knee contests, glamorous granny beauty pageants and an army of jollifying helpers known as Redcoats. Today, while still offering low-cost holidays, it has also pushed more upmarket with chalet villages and full-service hotels.
Paul Harris, the son of Peter Harris, who is now 88, and speaking on behalf of Harris family trusts, said: "We are delighted to reaffirm our love for Butlin's and once again be the new owners of this great brand."
The family was estimated to be worth £1.6 billion in the latest Sunday Times Rich List. They used to own racehorses and Peter's daughter Alison was married to the late Walter Swinburn, the three-times Derby winning jockey.
Peter Harris with his business partners bought their first caravan park in 1964. Bourne Leisure grew to encompass Haven caravan parks and Warner Leisure hotels and attracted 4.5 million guests last year. It bought Butlins in 2000.
Paul Harris said in a statement: "We look forward to working alongside the Butlin's leadership team as they strive to deliver their strategic plan for the business and help them accelerate their investment plans to give our Butlin's guests an even better holiday experience."
The business has been both boosted by its legacy image — it was the inspiration for the Hi-De-Hi! comedy TV series in the 1980s — but also sometimes held back by it, with its old-fashioned image of regimented fun. It was hit by lockdown but then boosted as households opted to avoid airports and holiday in the UK.
Insiders say that it will soon require heavy capital investment as it moves to replace or modernise the three entertainment pavilions at the heart of each holiday park. That will be both expensive and also potentially disruptive.
Butlins comes shorn of its property interests, which were sold by Blackstone in a separate £300 million deal in July to the Universities Superannuation Scheme, the lecturers' pension fund.
Lionel Assant, European Head of Private Equity, Blackstone, said that the proceeds from the sale would enable Bourne to reinvest in Haven and Warner, supporting upgrades and the purchase of new sites. "Butlin's is in a strong position to take advantage of the continued growth in the staycation market, and I have no doubt it will continue to flourish."
Bain Capital, Epiris, TDR Capital and Guy Hands' Terra Firma Capital Partners were all interested in buying the business, according to Sky News.
The families of Peter Harris's original partners, the Cooks and the Allens, co-invested with Blackstone in the 2021 Bourne deal, but were not involved in the latest Butlins purchase.
Read more:
Former owners buy back Butlin's from private equity in £300M deal