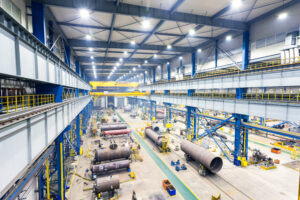 Government announces plan to cap business energy bills which could see some bills halved
The government has announced plans to introduce a cap on wholesale energy bills for businesses.
The Energy Bill Relief Scheme will see wholesale energy prices for all firms capped for six months from 1 October.
Hospitals, schools and other settings such as community halls and churches will also receive the support.
The further intervention in the energy market comes after the government announced a £150bn plan to help households with bills for two years.
Officials have not put an overall price tag of the latest subsidy to firms as the ultimate cost will depend on what happens to the wholesale market price between October and April, when the support expires.
Under the scheme, revealed by the Department for Business, Energy and Industry, wholesale prices are expected to be fixed for all non-domestic energy customers at £211 per MWh for electricity and £75 per MWh for gas for six months.
Firms do not need to contact suppliers as the discount will automatically be applied to them.
The government said the "supported wholesale price" would be "less than half the wholesale prices anticipated this winter", adding that savings will be seen from October's bills but received in November.
The scheme will apply to fixed contracts agreed on or after 1 April and variable and flexible tariffs and contracts.
Prime Minister Liz Truss said the government understood the "huge pressure businesses, charities and public sector organisations are facing with their energy bills".
"As we are doing for consumers, our new scheme will keep their energy bills down from October, providing certainty and peace of mind," she said.
"At the same time, we are boosting Britain's homegrown energy supply so we fix the root cause of the issues we are facing and ensure greater energy security for us all."
Responding to the release, Shevaun Haviland, Director General of the BCC, said: "For months we have been calling for Government intervention to help businesses with eye watering energy bills. This support package is significant and will ease the cost pressures that have been piling up on businesses.
"It will allow many firms that were facing closure, or having to lay off staff or reduce output, to keep going through the winter.
"But the exact level of support will vary greatly from business to business depending on the detail of its contract, so some will inevitably do better than others.
"We now need action to get this saving passed onto business as soon as possible – every day will put some firms closer to the edge and they cannot hang on much longer.
"There must also be effective legal oversight to ensure no firms that are due this money miss out.
"For those that will benefit, six months support is not enough to make plans for the future.
"We understand there are a range of unknowns for the Government in looking ahead, but without further reassurance very few firms will make plans to invest or grow.
"Some businesses will still struggle to meet their bills despite this government intervention, the Chancellor must prioritise those firms in his mini-budget on Friday.
"There are a range of other challenges that must be addressed including labour shortages, supply chain disruption, and rising raw material costs.
"To truly revitalise our economy for the difficult months ahead then there must be a clear long-term plan that gives business the confidence to grow."
Read more:
Government announces plan to cap business energy bills which could see some bills halved