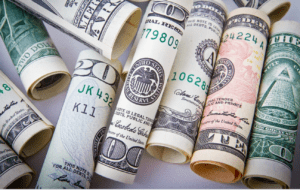 Pound hits fresh 37-year low against dollar
The pound has hit a new 37-year low against the dollar after Russia accused the West of "nuclear blackmail" raising fears the Ukraine war could escalate.
The comments unnerved traders, pushing them towards safer investments such as the dollar.
The pound briefly touched $1.13040 – its lowest level since 1985 – before regaining ground.
The fall also came after UK figures showed borrowing costs hit a fresh record for August as inflation soared.
In a televised address, the Russian president said he had signed a decree on partial mobilisation – the first since World War Two – as he seeks to send up to 300,000 more soldiers into battle.
He also accused the West of wanting to destroy Russia, adding the country had "lots of weapons to reply".
The comments rattled investors who bought the dollar, gold and bonds, all of which are seen as less risky investments.
Traders in sterling – which has been at low levels for weeks – were also looking ahead to a widely anticipated interest rate rise by the Federal Reserve on Wednesday.
The US central bank has already raised interest rates four times this year to battle inflation. The Bank of England (BoE) is meanwhile expected to put up interest rates again on Thursday.
Raising rates increases the cost of borrowing and encourages people to spend less, which can cool rising prices. However, central banks face a tough balancing act because higher rates may also slow the economy.
Read more:
Pound hits fresh 37-year low against dollar