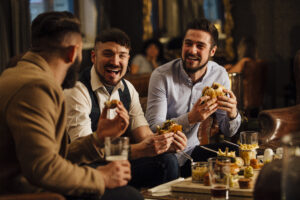 Hospitality hit as consumers cut back
More than a quarter of businesses reported a fall in revenues last month, with restaurants, pubs and bars in particular struggling as hard-up consumers tightened their purse strings.
Data from the Office for National Statistics showed that in August 26 per cent of companies reported lower turnover than the previous month, while only 15 per cent saw a rise in sales.
Businesses operating in the accommodation and food service sectors were hit the worst, the statistics body found, with almost half posting a month-on-month slide in revenues.
Looking ahead, a fifth of businesses predicted a dip in sales in October, with pubs and restaurants especially gloomy about the outlook once again.
Confidence among consumers was sapped over the summer and fell to a new low this month. Households are having to deal with inflation rising at its fastest pace since the 1980s, and the Bank of England thinks the economy is probably already in recession.
People are also cutting back on their expenditure in anticipation of a steep increase in energy bills over the coming winter, while mortgage repayments are climbing sharply.
The Bank expects that inflation will peak next month and almost a third of the businesses surveyed by the ONS said that they would likely put up their prices in October.
The rising price of energy was the most commonly given reason for doing so. Yet there are early signs that cost pressures on businesses are starting to ease slightly. In July, 46 per cent of respondents said that their suppliers had increased prices that month, but the figure dipped to 44 per cent in August.
Within that group, two thirds of companies in the accommodation and food services industries reported that their costs of doing business had increased last month, the highest proportion of any sector.
Across the country, one in ten companies said their operations had been disrupted by the mail and rail strikes during August. Of those affected, the biggest gripe with the industrial action was that companies could not obtain necessary goods.
The ONS data shed more light on the nation's changing working practices. This time last year, about 13 per cent of the population in employment was working from home. That figure had fallen to 8 per cent by the end of August.
Just over one in five are now on a hybrid model of working, while 65 per cent said they were attending their place of work every day.
Read more:
Hospitality hit as consumers cut back