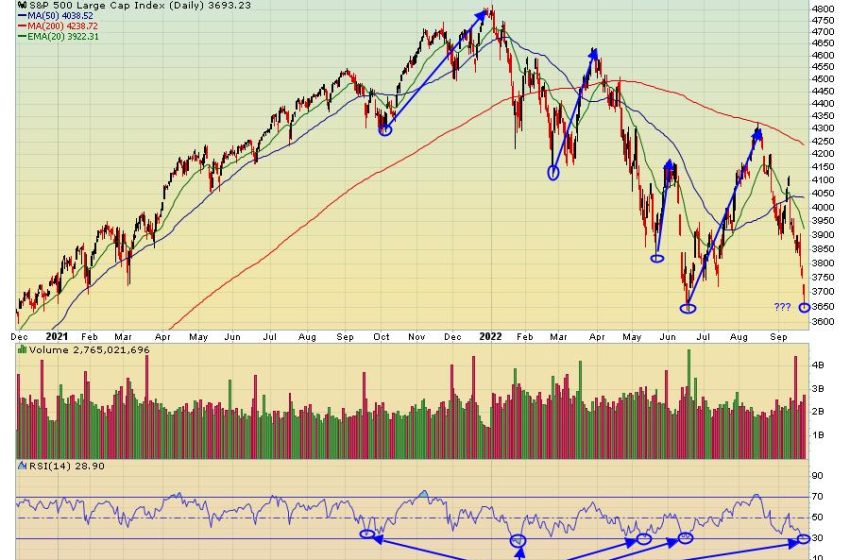 Let Your Risk Tolerance Determine If You Buy the Dip
At its low on Friday, the Dow Jones closed below its June 17 low of 29,653. The S&P got within 11 points of its June low of 3636. The NASDAQ held above its June 17 low but still saw deep losses. All adding up to what? Buying opportunities, especially for those of you who think longer-term. And for those of you who have little tolerance for risk? Well, you should do fine as long as you stay disciplined.
For example, as you can see in the chart below, the S&P touched 3636 on June 17. At today's low, the S&P got to within 11 points of that June low. On the flip side, the most recent high of 4325 on August 16 is now 18.5% above today's low. Do I expect the S&P to get back to that 4325 level anytime soon? No. But I do like the outsized upside to downside reward to risk at current levels.
Note also in the above chart the RSI of 28.90 and stochastics close to zero, both flashing extreme oversold levels. In fact, look how the S&P bounced every time the RSI got down to or below the 30 level over the past year.
This is where discipline comes in. If we know the June 17 low of 3636 represents KEY price support, then we should be able to keep any losses to a minimum; i.e., a move below that level means it's time to exit long positions for those with less risk tolerance. For those who care more about the long-term, you could be looking at some great opportunities — i.e., stocks that could make sizable moves — once the market settles down.
For example, look at the chart below on Advanced Micro Devices (AMD), a company that has continued to reiterate its financial strength and has fallen 60% since its November 2021 high. Do I think AMD is going to move back to that all time high any time soon? Of course not. But do I think that, over time, AMD could increase by 50%? I do. What if it takes a year to get there? So what? How many investments can you make that might produce a 50% return in a year?
This really is one of those rare times where you can have your cake and eat it too. There's not much downside risk at today's level on the S&P if you're a short-term trader and keep a tight stop at that June 17 low on the S&P of 3636. If you're a longer-term thinker, you're getting a heavily discounted market. And if you're looking to reduce risk even further, consider taking a partial position at today's levels and adding on any further pullbacks, because,as we've seen time and time again, over time, the stock market produces tremendous gains.
In the meantime, if you would like to get access to timely and highly informative market insights from our Chief Market Strategist Tom Bowley, just click here and you will receive our EarningsBeats Digest every M, W and F FREE OF CHARGE! It's a MUST-read!
At your service,
John Hopkins
EarningsBeats.com