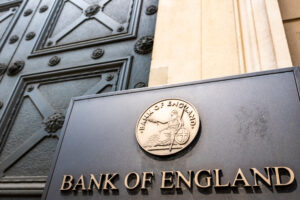 Bank of England expected to make statement as next interest rate hike to be highest in decades
The pound sank to an all-time low against the dollar this morning, and the Bank of England is expected to make a statement this afternoon after calls from the City for immediate intervention to halt Britain's slide into a currency crisis.
Sterling dropped by 4.9 per cent to $1.0327 — its lowest level since decimalisation in 1971 — as trading opened in Asian markets for the first time since Kwasi Kwarteng, the chancellor, unveiled £45 billion of unfunded tax cuts in an emergency mini-budget on Friday.
The pound regained some ground to $1.07 by mid-morning as trading volumes increased. In a signal that the fall is not simply an indication of dollar strength, the pound also fell 2.4 per cent against the euro to €1.0887.
"Sterling is getting absolutely hammered," Chris Weston, head of research at Pepperstone, a foreign exchange broker, said. "Investors are searching out a response from the Bank of England. They're saying this is not sustainable."
Liz Truss, who has been prime minister for three weeks, has said her government was "incentivising businesses to invest and we're also helping ordinary people with their taxes".
Asked on CNN whether she was "recklessly" running up the deficit, Truss said: "I don't really accept the premise of the question at all."
After his fiscal statement, the chancellor indicated that his announcements were only the beginning of a government agenda to revive the stagnant economy.
Kwarteng said that the new administration was investigating possible further reductions in income tax and the loosening of immigration rules and other regulations. He has brushed off questions about the market reaction and said he remained focused on achieving annual growth of 2.5 per cent.
The £45 billion tax-cutting package was met with alarm and unease by leading economists, some Tory MPs and financial markets. The Institute for Fiscal Studies think tank said that he was "betting the house" by putting government debt on an "unsustainable rising path".
Read more:
Bank of England expected to make statement as next interest rate hike to be highest in decades