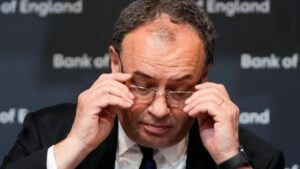 Pound falls again as Bank of England rules out emergency rate rise
The Governor of the Bank of England has ruled out an emergency rate rise following a rout in the pound.
In a statement just minutes after a separate one by Kwasi Kwarteng, the Chancellor, Andrew Bailey said the bank's monetary policy committee "will not hesitate to change interest rates by as much as needed" to bring inflation under control.
He added that Threadneedle Street is "monitoring developments in financial markets very closely in light of the significant repricing of financial assets".
But Mr Bailey stopped short of announcing an emergency meeting of the committee this week and suggested it would stick to its next scheduled gathering in November.
After his statement was released, the pound plunged again – despite having stabilised earlier in the afternoon.
It came moments after Mr Kwarteng promised to unveil a plan to bring UK debt back under control after his mini-budget sent the pound crashing.
His huge package of tax cuts is designed to boost the economy but has spooked investors, who fear they will run up public borrowing to unsustainable levels.
Mr Kwarteng this afternoon attempted to calm the markets, with the Treasury promising he will set out a plan to bring debt back under control on November 23.
Read more:
Pound falls again as Bank of England rules out emergency rate rise