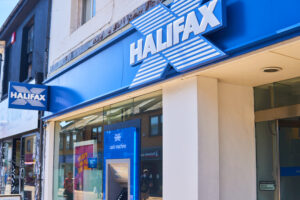 Banks pull mortgage deals in the face of soaring borrowing cost
Banks and building societies removed dozens of mortgage deals from sale yesterday and homeowners raced to secure fixed rates because of fears that the cost of borrowing would soar.
Halifax, the biggest mortgage provider, said it would withdraw most fixed-rate deals by the end of today because of "significant changes in the cost of funding".
Skipton building society, Virgin Money, Nottingham building society, Chelsea building society and Atom Bank also raised mortgage rates or withdrew some deals.
The cost of mortgages has risen dramatically in recent weeks and brokers say borrowers are worried about their ability to afford repayments.
In summer last year Halifax was offering a two-year fixed rate at 0.83 per cent. Today its two-year fix is 4.29 per cent. Repayments on a £200,000 mortgage would jump by £330 a month for someone paying 1 per cent moving onto the new rate of 4.29 per cent.
Halifax was the first to react after Kwasi Kwarteng's mini-budget led to predictions in the City that the Bank of England base rate would reach 5.5 per cent by late next year.
An announcement by the Bank that it would not hesitate to raise interest rates led to a stream of activity in the mortgage market yesterday afternoon as other banks followed suit.
Aaron Strutt, from Trinity Financial, a mortgage broker, said: "The chancellor's announcement of tax cuts almost instantly pushed up the cost of borrowing and the subsequent product changes are causing carnage in the mortgage market.
"The last time there were this many rate withdrawals the pandemic had hit and the lenders pulled their products until they worked out a way to continue trading."
The decisions by lenders will be a worrying for borrowers already concerned by the Bank's second consecutive 0.5 percentage point rate rise last week, because mortgage deals are becoming more expensive every day.
The Bank's decision took the base rate to 2.25 per cent, its highest level in 14 years. Financial markets expect a one-point rise when its monetary policy committee next meets.
Inflation of more than 10 per cent has been followed by mortgage rates rising from less than 1 per cent this time last year to close to 4 per cent.
Scott Taylor-Barr, an adviser at Carl Summers Financial Services, said: "It is an incredible rise when you consider the rates we could access not so long ago."
Graham Cox, director of the Self Employed Mortgage Hub, which is based in Bristol, said that some borrowers had said yesterday that they were delaying buying a house or flat because they thought house prices could fall and were also concerned about a lack of confidence in the economy as a whole. Other would-be buyers were grabbing low rates while they could.
The combination of rising interest rates and desperate borrowers has already led to banks and building societies rapidly pulling products from sale and putting up their own rates to stop them being inundated.
An estimated 300,000 borrowers are coming to the end of fixed-rate deals every three months, according to estimates by analysts BuiltPlace. It said that people coming off a rate at or below 2.5 per cent were facing a particular shock.
Such has been the rise in rates that the amount of money buyers will save in stamp duty after Friday's cut will be gobbled up by the higher monthly repayments.
The threshold before buyers pay any stamp duty was increased from £125,000 to £250,000, and from £300,000 to £425,000 for first-time buyers.
A first-time buyer with a 10 per cent deposit buying a £350,000 home will now save £1,500, according to the estate agent Hamptons. But their monthly repayments have risen from £1,329 this time last year to £1,637, based on average rate data from the Bank, so in just under five months the tax saving will have vanished.
Someone buying a £600,000 property with a 40 per cent deposit will have gone from paying £1,373 a month to £1,902, a rise of £529 a month that will outweigh their £2,500 stamp duty saving in five months.
Mark Robinson, managing director of Albion Forest Mortgages, a broker in Southampton, said: "I've had a few inquiries already today to get things done before another base rate rise . . .
"The plan is to increase the number of home movers and first-time buyers by raising the stamp duty limits, but if that leads to interest rate rises people may not be able to afford the mortgages to go with them."
Read more:
Banks pull mortgage deals in the face of soaring borrowing cost