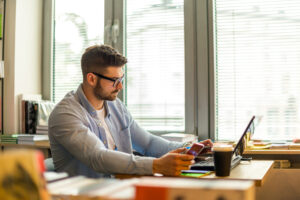 Homeworking matches salary as priority for recruits, says CIPD
Flexible and remote working opportunities are proving as important as salaries for new recruits, as the continued skills shortage means that jobseekers hold most of the cards when it comes to finding work.
More than two thirds of employers said that they had managed to attract and retain more top talent by offering the chance to work from home for at least part of the time, according to research from the Chartered Institute of Personnel and Development, the group that represents the HR industry, in conjunction with Omni, the recruitment business.
More than half of the organisations surveyed that had previously struggled to recruit said that they had changed their job adverts to offer greater work flexibility in an effort to address this.
Career development opportunities were another attractive proposition for those looking for work.
Despite the downturn, unemployment is at its lowest since 1974 at 3.6 per cent in the three months to July, a 0.2 percentage point fall from the previous quarter.
Rather than an increase in the number of people in work, the low level is being attributed to a rise in the number of people not working because they are studying or are in ill health.
At the same time as the labour pool has shrunk, inflation is rising at its fastest rate for almost 40 years, with prices 9.9 per cent higher in August than they were the year before, a real challenge for businesses and households.
Even if they wanted to, businesses would struggle to keep pace with this. The average pay packet, excluding bonuses, lagged behind, up by only 5.3 per cent in the three months to July 2022. As a result, employers are having to find other ways to attract staff.
Louise Shaw, managing director at Omni RMS, said: "There is a constant battle for top talent. Unrealistic salary inflation is not only unsustainable for employers, but will also have limited success long-term.
"Candidates want more than just good pay and are seeking meaningful jobs that are culturally and personally rewarding.
"Less forward-thinking organisations find themselves at the mercy of a labour market, the likes of which we haven't seen before, with competition for skills creating retention pressures that recruitment cannot contend with."
Read more:
Homeworking matches salary as priority for recruits, says CIPD