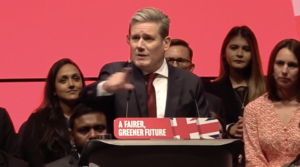 Keir Starmer promises state energy supplier in speech to Labour party conference
Sir Keir Starmer opened his conference speech by warning that the Conservatives have crashed the pound and lost control of the economy.
"A Britain all at sea, where a cloud of anxiety hangs over working people," he said. "At moments of uncertainty like this we must provide clear leadership. We must stand with working people."
"A Britain all at sea, where a cloud of anxiety hangs over working people," he said. "At moments of uncertainty like this we must provide clear leadership. We must stand with working people."
He said that the fall in the value of sterling in the past few days "has no precedent". "The government has lost control of the British economy and for what? They've crashed the pound. And for what? Higher interest rates, higher inflation, higher borrowing. And for what? Not for you, not for working people. For tax cuts for the richest 1 per cent in our society.
"Don't forget. Don't forgive."
During the speech the Labour leader spoke of his 1970s childhood and how his family's phone had been disconnected because they could not pay the bill.
"I grew up in a pebble-dashed semi. Dad was a toolmaker, Mum was a nurse, our first car was a Ford Cortina — it was the 1970s."
But he said the hope felt by the working class then had vanished with the breaking of an "unwritten contract" where people who worked hard could "get on" and believe life would be better for their children.
He said the Tories "keep talking about aspiration, but they don't understand how they've choked it off for working people".
Britain was unprepared for the cost of living crisis triggered by the war in Ukraine, Starmer told the Labour Party conference, blaming the government for failing to ensure long-term energy security.
Sir Keir then vowed to set up a state-owned energy company if Labour wins the next election. He said he would found "Great British Energy" to provide "British power to the British people".
The company would provide the funding for green energy projects around the country in an attempt to ensure Britain does not have to import fuel from despotic regimes.
Starmer told the conference: "We won't make the mistake the Tories made with North Sea oil and gas back in the 1980s when they frittered away the wealth from our national resources. Just look at what's happening at the moment. The largest onshore windfarm in Wales. Who owns it? Sweden. Energy bills in Swansea are paying for schools and hospitals in Stockholm.
"The Chinese Communist Party has a stake in our nuclear industry. And 5 million people in Britain pay their bills to an energy company owned by France.
"So we will set up Great British Energy within the first year of a Labour government. A new company that takes advantage of the opportunities in clean British power and because it's right for jobs, because it's right for growth, because it's right for energy independence from tyrants like Putin."
To cheers, he added: "Yes conference, Great British Energy will be publicly owned."
Starmer, who has made green energy the theme of the conference, acknowledged that the plan would not "be like flicking a switch", and would instead "mean tough battles on issues like planning and regulation."
But he continued: "The future wealth of this country is in our air, in our seas, in our skies. Britain should harness that wealth and share it with all. British power to the British people."
In recent days his team have come to believe that Sunday's tribute to the Queen, and frustrating results for the Corbynite campaign group Momentum in a vote on which issues to debate, show that Starmer's control over the party is secure.
Starmer's spokesman had embraced earlier comparisons with Sir Tony Blair. "Ultimately he wants to be the next Labour leader that takes the party from opposition into government, and Tony Blair was the last person to do that," the spokesman said.
"You saw on Sunday that clear demonstration of how the Labour Party has changed, not just in the way in which the tribute to the Queen was embraced by conference but also in the results that you saw . . . this is a Labour Party that has changed, it is back on the centre ground and that is something that we absolutely want to signal," he said.
Brian McBride, CBI President, said: "Against the backdrop of a cost-of-living crisis, it's welcome to hear Labour re-state its pro-business credentials and double down on a commitment to sustainable growth.
"Business shares Labour's commitments to transform business rates, give firms greater flexibility over training and turn the UK into a green growth superpower; achieving this in partnership.
"There is widespread recognition that the energy market needs significant reform and industry will want to get to grips with the detail of Labour's proposals. The UK is not short of renewable generators right now and investment is waiting in the wings, but where Great British Energy could add value is by channelling catalytic public investment to spur innovation and accelerating the delivery of renewable projects.
"Getting to net zero will require the best of the public and private sectors working together."
Read more:
Keir Starmer promises state energy supplier in speech to Labour party conference