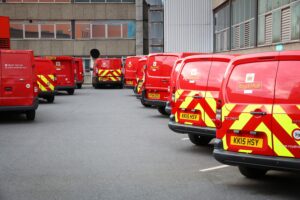 Royal Mail workers to hold 19 days of strike action
Royal Mail workers are to hold 19 days of strike action over pay and terms and conditions during the peak postal build-up to Christmas.
The Communication Workers Union (CWU) said the strikes will cover Black Friday and Cyber Monday.
It said its "significant announcement" reflects the "level of anger" workers feel.
Royal Mail Group said further strikes would make its financial position worse and threaten workers' job security.
Strike action has been called for 24 hours from 04:00 on various days starting on Thursday 13 October, taking in Black Friday week and Cyber Monday.
The strike action will be taken by all workers on 13, 20, and 25 October, and 28 November.
Different teams and combinations of teams will strike on other dates, but that will have a knock-on effect on all deliveries on those dates, the CWU spokesman said.
Dave Ward, the CWU general secretary, said: "This is a significant announcement, but it is one which matches the level of anger our members feel at the way Royal Mail Group has treated them."
"These are the same people that have kept the country connected and returned Royal Mail Group to record profit," he said.
"Postal workers across the UK now face the fight of their lives to save their jobs and the service they provide to every household and business in the UK.
"We call on everyone to stand with their local postal worker."
A spokesman for CWU said Royal Mail's management was trying to "casualise" the postal service.
"They want to turn it into an Uber-style employer," he said.
But a Royal Mail spokesperson said: "Royal Mail is losing £1m a day and must change faster in response to changing customer demands.
"We operate in a competitive market, and our customers have choices.
"Further strikes and resistance to transformation by CWU will only make our financial position worse, and threatens the long-term job security of our postmen and women."
The spokesperson said Royal Mail had invited CWU to discussions through dispute resolution service Acas on 22 September.
"Rather than responding to our offer of Acas talks, the CWU announced further damaging industrial action, once again taking the path of prolonging disruption over resolution," the spokesperson said, adding that CWU should "engage urgently on the changes required".
They apologised "to our customers for the inconvenience the CWU's continued strike action will cause".
"We are doing all we can to minimise any delays and keep people, businesses and the country connected."
Commenting on the strike announcement, Julia Kermode, founder of IWORK, said: "What did the government expect? In the mini-Budget, the Chancellor promised to make it more difficult for workers to strike. Less than a week later, amid soaring inflation and huge economic uncertainty created by his potentially disastrous fiscal package, Royal Mail workers confirm they will strike at the busiest time of the year.
"It means Royal Mail will lean on the support of temp workers more than ever. The postal service will almost certainly look to benefit from new legislation allowing agency temp workers to cover for striking staff. The new legislation was rushed in recently to minimise the impact of strikes on 'middle England', but unions are challenging its legitimacy, which they say contravenes international labour law.
"If Royal Mail decides to use temps to cover for their striking employees, it will need to be done sensitively. Innocent workers must not be sent into a potentially volatile situation. Care needs to be taken to ensure temps are fully aware of what they are walking into. Some may prefer to work elsewhere than to cover for strikes and it's essential they're given the opportunity to make an informed decision.
"It's also crucial that these workers are paid and treated fairly. The moment temps and agency workers are given a raw deal too is the moment vital sectors grind to a halt."
Read more:
Royal Mail workers to hold 19 days of strike action