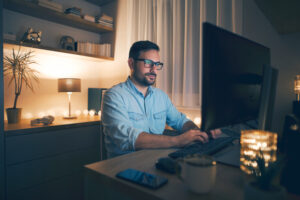 Will the great return to the Office happen? Demand for home office furniture at record highs
Trends data shows searches for furniture for home working are still significantly up since the pandemic, potentially indicating that a Great Return to the office as a result of the cost-of-living crisis may not be guaranteed.
Rising bills have pundits and business leaders alike anticipating an end to hybrid working, particularly as we enter the winter months.  On top of quiet spaces for focused working and easy collaboration, offices also offer opportunities to socialise which may become a higher priority as the nights grow longer.
But data, collated by Banner, suggests that employees may not be on the same page.  Searches for "home office furniture" and "desk for home" at the end of Q3 2022 remain around 100% higher than before the pandemic, when home working became the norm.
Not only are employees still looking to furnish their home offices, despite rising energy costs, they're also more interested in comfort and health in their work environment too, with searches for ergonomic chairs and standing desks being around 200% and 150% higher respectively post-COVID.
Jason Thomas from Banner, says, "The data shows that interest in ergonomic furniture and furniture for the home office is still up in comparison to before the pandemic. This could be interpreted as a sign that speculation around a Great Return to the office is perhaps more wishful thinking. At the very least, workers are expecting some form of hybrid working to continue despite the cost-of-living crisis.
"The lesson for businesses that were hoping to see more employees in the office as a silver-lining to rising costs, is that they will still need to provide a workspace that's just as, or more, inviting and comfortable than the one their staff have at home.
"The things people love about the office are the atmosphere, the ability to socialise, the purpose-built areas for concentration, collaboration and ideation, and it's also much more likely that their workstations will be fit for purpose.  A smart workplace supplies partner can help you optimise your office in all of these areas to help make the office more of a destination as home working becomes more expensive."
Read more:
Will the great return to the Office happen? Demand for home office furniture at record highs