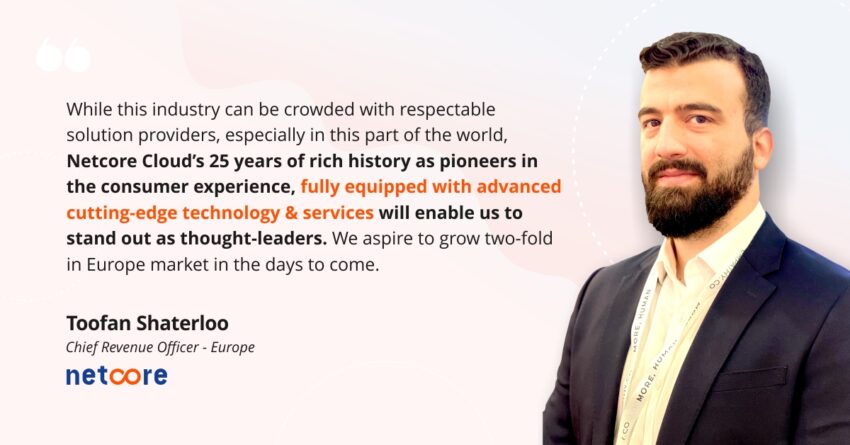 Build to last: 25-year-old SaaS giant, Netcore Cloud targets major euro-expansion
In 1935, the lifespan of a company featured on the S&P 500 was 90 years. Today, it is 18 years.
Every two weeks, a company goes off that system. Even as we focused on the weekly, monthly, and quarterly, we started to lay the foundation for making Netcore Cloud an enduring great company. Our journey began somewhere in the latter half of the 90s. India had broken the shackles of red tape, and custom-raj and the fruits of a globalized economy were yet to be delivered to its doorsteps.
In the year 1997, Netcore Cloud (Previously known as Netcore Solutions) started as the tech wing of India World Communication which had a slew of portals. The technical base for the parent corp. was laid by Netcore, using an open-source platform, which helped further in building a mailbox server for the employees. In India, we were one of the first players to offer cloud-based anti-spam, antivirus Statistical Analysis and Data Visualization (SAS). In 2006, following the growing popularity of mobile phones, we launched an SMS marketing platform, which is now recognized more easily as bulk SMS. Shortly after, as networking grew, we ventured further into campaign management and personalization solutions,  combining the benefits of email, SMS, and web push notifications for a more unified experience. More recently, Whatsapp Business API integration and Voice Solutions amongst our end-users. Besides, our contextual nudges, In-app messages, and walkthroughs have enabled our customer base to deeply enhance their engagement with their audience.
Finally, in 2015-16, Netcore debuted its Omnichannel customer engagement and retention platform, a marketing automation tool to keep customers engaged across several channels without compromising messaging or brand retention. companies like Boxx.ai in 2019 and Hansel.io in 2020, respectively, Netcore marched ahead, constructing capabilities such as Software Development KIT (SDK) around the personalized service boom.
People-first mindset; valuing assets that matter the most
Throughout our illustrious journey, Netcore Cloud has three basics: customer focus, employee focus, and sustainable growth for the long term. Acquiring Boxx.ai and stepping into bespoke product advocacy was one of the moves in that direction. Likewise, people have remained at the core of its purpose. Even during trying circumstances, Netcore  – doesn't let go of people just because there's a downturn.
Transforming adversity into an opportunity
Be it the dot-com bubble of 2000 or the financial recession of 2008, Netcore Cloud has always contemplated those crises as windows of opportunity to evolve where others had failed. Our people have remained the nucleus of our purpose. On the other end, managing costs formed the remaining half of its strategy to stride through troubled waters.
Thinking beyond inorganic growth opportunities and making them work
Netcore has invested over $100 million in Unbxd Inc. to augment the digital experience. Going forward, by empowering it with apps and micro websites, user-friendly platforms such as Accelerated Mobile Pages (AMP) have once again turned the spotlight on email. AMP emails interactivity improves dwell time on the email, improves engagement significantly, and reduces any cybersecurity threat that may occur due to multiple-page navigation. According to Netcore Cloud's recent report – Email Benchmark Report 2022, sectors like banking and e-commerce have shown the highest adoption of AMP interactive emails in 2021.
Thriving across two long decades
How often have you come across a Martech company that has helped and supported over 5000 B2C brands, creating one-of-a-kind, stunning digital user journeys across a range of products that has helped them engage and retain valuable customers but also approach each acquisition with aplomb? to our core value of customer and employee focus, alongside time-bound product enhancements, helped us chip a dazzling narrative in India's digital story. And now we are looking forward to replicating this in Europe as well.
We recently appointed Martech Specialist and Ex-Emarsys, Toofan Shaterloo, as Chief Revenue Officer for the European market. Toofan's appointment came following our aspiration towards generating 40% of revenue from international markets by 2025, with a greater focus on Europe & US.
Read more:
Build to last: 25-year-old SaaS giant, Netcore Cloud targets major euro-expansion