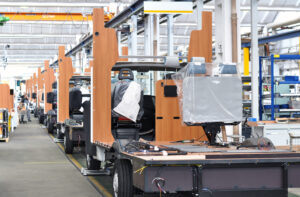 Manufacturing sector shrinks for third month as exports continue to fall
Manufacturing output contracted for a third month in a row in September, hit by falling exports and wider uncertainty about whether the economy is on the brink of recession, according to a closely watched survey.
The S&P Global manufacturing purchasing managers' index rose to 48.4 from August's 27-month low of 47.3 but remained below 50 — the level that divides growth from contraction.
September saw new export orders shrink at the quickest pace since May 2020, with lower demand from the US, China and the European Union. "Manufacturers faced weak global market conditions, rising uncertainty, high transportation costs reducing competitiveness and longer lead times leading to cancelled orders," S&P Global said.
Recent volatility in the pound, which hit a record low against the dollar last week, has added to the uncertainty for businesses and households facing higher energy and borrowing costs.
Weaker sterling should, in theory, help exporters by making goods cheaper for overseas buyers. But the currency weakness also raises the cost of imports of fuel and raw materials, which are often priced in dollars.
The PMI report showed that input cost inflation rose for the first time in five months, partly because of the weaker pound, with products including chemicals, foodstuffs, metals and timber all up in price.
The Bank of England's chief economist, Huw Pill, has said that a significant rise in interest rates is likely to be needed in November, in light of looser fiscal policy at a time when inflation is close to a 40-year high.
The most recent data from the Office for National Statistics showed manufacturing output grew by 1.1 per cent in the year to July. However. Rob Dobson, director at S&P Global Market Intelligence, said that the sector looked set to be a drag on GDP data for the current period.
Dobson said: "Manufacturers have once again cut back production as new order intakes declined for the fourth successive month. Disappointingly, exports continue to fall despite the more competitive exchange rate.
"With existing headwinds from the cost of living crisis likely to be exacerbated by the current volatility in financial markets, growing economic uncertainty and further increases in borrowing rates, the industrial sector is likely to remain in the doldrums during the coming quarter to add to deepening recession risks."
The picture in the eurozone was also gloomy, according to S&P Global's PMI figures for the bloc published today. The index fell to a 27-month low of 48.4 in September from August's 49.6.
"The ugly combination of a manufacturing sector in recession and rising inflationary pressures will add further to concerns about the outlook for the eurozone economy," said Chris Williamson, chief business economist at S&P Global.
German manufacturing activity contracted for a third month in a row in September, according to the index. The soaring cost of energy has rung alarm bells among manufacturers, and expectations for future output have plummeted following the shutdown of the Nord Stream 1 gas pipeline, S&P said.
Read more:
Manufacturing sector shrinks for third month as exports continue to fall