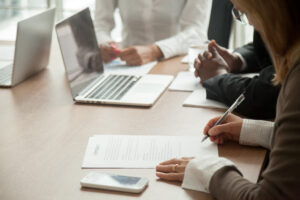 Getting to Know You: Aduke McCoy, Educational and Business Consultant
Aduke McCoy was born and raised in Earlington, Kentucky. After graduating from high school, she proceeded to enroll in a reputable post-secondary institution, working hard on her studies and eventually obtaining a Doctor of Philosophy degree (Ph.D.) in the discipline of Social and Human Services.
Since leaving academia and entering the professional world, Aduke McCoy has accomplished many of the professional goals she has set for herself in life—a fact of which she is immensely proud. Presently, she works as a business consultant who counsels her clients on a variety of subjects, with her specialty being providing assistance to would-be and novice entrepreneurs who are endeavoring to create businesses relating to education. Over the years, she has contributed to the founding of many small businesses, such as childcare centers, tutoring agencies, and private schools.
When not working, some of Aduke McCoy's other pursuits include sewing and fitness. She also teaches Zumba classes regularly in her community.
What do you currently do at your company?
I generally work with clients who are trying to start up educational businesses, whether it be childcare centers, tutoring agencies, schools, or other things of that nature. I help to walk my clients through the steps necessary in starting a new business, including helping them to register it on the state and federal levels, helping them to find the appropriate grants for their enterprise, helping them to raise financing for their business, and consulting on matters pertaining to marketing and human resources.
What was the inspiration behind your business?
When I was growing up, I attended a low-performing school in a low-income area. A lot of the kids in my neighborhood just didn't have access to the sort of educational facilities they needed to thrive in life. As I became older and was able to see this problem and its lamentable consequences with more clarity, I resolved that I would make myself a part of the effort to solve it. After much research and consideration, I determined that becoming a business consultant to entrepreneurs operating in the educational sphere was the best way to accomplish that goal. Basically, I wanted to make a difference in my own community, as well as others like it around the country.
What defines your way of doing business?
The health and vitality of the communities I serve help to define my way of doing business. By observing the guiding principlethat everything I do in my professional life ought to improve the educational facilities in these communities, all my decisions—whether it be who to take on as a client, or what my recommendations to make to them regarding certain issues—are made much clearer.
Tell us one long-term goal in your career.
I want to create a business startup method and replicate it in other states, working with other schools and districts and within the juvenile justice system.
How do you measure success?
I measure my professional successes based on the clients that I help and how well they succeed after retaining my services. When they help more children reap the benefits of a superior education, when they refine their processes to create more positive outcomes, when they expand their services, and when they become more profitable, I know that I have been successful.
What's the most valuable lesson you've learned through the course of your career?
The most valuable lesson that I've learned throughout the years is to stay consistent and keep working at  improving my craft each day. I think that procrastination can be one of the worst enemies to anyone trying to succeed in business, so I always try to work ahead of the curve.
What advice would you give to others aspiring to succeed in your field?
The best advice I can give to others considering a career in business and educational consulting is to first start locally and assess what the needs are in your community. That will inform the next steps that you should take. At its essence, this job is about improving educational facilities on a local level, so keenly observing and analyzing community needs is the single most crucial skill to cultivate.
How would your colleagues describe you?
I think my colleagues would describe me as an energetic, outgoing, tenacious professional who happens to be fantastic at problem solving.
How do you maintain a solid work life balance?
Proper scheduling is probably the most important factor in how I maintain my work life balance. As an in-demand business consultant, I have to make sure to leave myself enough time to rest and recreate. So, I schedule my time off well ahead of time and stick with it. I also practice self-care on a daily basis, which helps me to alleviate different types of stress.
What is one piece of technology that helps you the most in your daily routine?
I would say that my smartphone is the most indispensable piece of technology that I use in my daily routine. From the time that I begin work to the time I finish, my smartphone is always within my reach. It's how I stay organized, it's how I communicate with my clients, and sometimes it's even how I conduct research.
Read more:
Getting to Know You: Aduke McCoy, Educational and Business Consultant