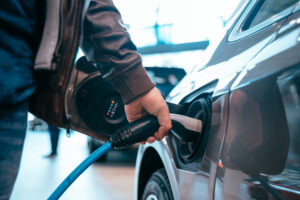 Electric car sales slow amid rising cost of consumer credit
The millionth new plug-in car sold in Britain rolled out of a showroom last month but sales of electric vehicles appear to be slowing as total registrations remain stalled at historically low levels.
More than 225,000 vehicles bearing the new 72 licence plate hit the road in September, traditionally the second busiest month of the year for the motor trade after March.
New registrations were up 4.6 per cent on the same month last year but that was the worst September since 1998, according to the Society of Motor Manufacturers and Traders. Volumes are down more than a third on pre-pandemic levels in 2019 and are about half those of 2016, the most recent high water mark for the trade.
Total new registrations for the first nine months of the year came in at 1.2 million, down 8 per cent on 2021.
Analysts said a market that has been disrupted on the supply side for the past two-and-a-half years as manufacturers struggle to source parts is being hampered on the demand side as consumers baulk at galloping inflation and soaring interest rates.
"Higher household costs are shaping new demand," Chris Knight, a partner in the automotive consultancy at KPMG UK, said, warning of the impact on the vast majority who acquire their cars on three-year payment plans. "As consumer credit becomes more expensive due to higher interest rates, some consumers will delay buying a new car altogether. For existing customers facing increased outgoings, some will question the affordability of their car payments."
In September, all-electric battery vehicles as well as plug-in hybrids accounted for more than 50,000 new registrations or about 22 per cent of the market. Of the one million plug-in cars that have been sold in the UK, nearly 250,000 joined the road in the first nine months of this year.
While that indicates that electric vehicles have joined the mainstream ahead of the proposed ban of the sale of cars with petrol or diesel engines from 2030, they remain a small fraction of the UK's 40 million cars.
Although the mathematics of the new segment means that its rate of growth will eventually be pegged back, the latest data indicates a sharp slowdown in take-up for vehicles that tend to cost between 50 per cent and 100 per cent more than an equivalent conventional model.
With nearly 250,000 electric cars sold in the year to date, that is a year-on-year growth of 17 per cent. However, the 50,000 sold in September represents 9 per cent year-on-year growth.
Pure battery electrics continue to rise strongly, up 40 per cent in the year so far, while plug-in hybrids are down 15 per cent. That could be accounted for by the ending of subsidies for plug-in hybrids but also by motorists adopting the new technology, realising that either their mileage or journey types or the increasing availability of public charging infrastructure means they don't need a petrol engine as back-up.
The demise of the diesel engine, demonised by legislators, regulators and environmentalists, continues. The 19,000 new cars fitted with a diesel engine in September represent little more than 8 per cent of the total market.
Read more:
Electric car sales slow amid rising cost of consumer credit