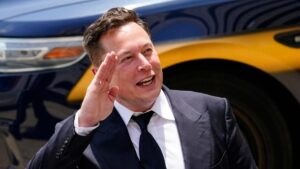 Judge gives Musk till end of October to complete $44 billion Twitter deal
A Delaware judge has given Elon Musk until the end of the month to complete his Twitter takeover, delaying a highly anticipated trial over his bid to terminate the $44 billion deal.
The world's richest man must now buy the social media group by 5pm on October 28 if he is to avoid court.
Having agreed to acquire Twitter for $54.20 per share in the spring, Musk sought to pull the plug this summer.
The company sued him, and a trial had been due to begin in Delaware on October 17, but earlier this week the billionaire offered to buy itafter all.
Last night Judge Kathaleen McCormick said Twitter and Musk were to contact her to arrange a November trial should the purchase not be completed by its new deadline. She had been urged by the billionaire's lawyers to pull the trial from the court's calendar.
Musk's lawyers argued that holding the trial would leave the deal "in limbo for longer, casting an unnecessary cloud of uncertainty" over Twitter.
"Twitter will not take yes for an answer," they wrote in a filing. Attorneys for Twitter swiftly hit back, describing Musk's request to stop the trial before closing the deal as an "invitation to further mischief and delay".
Twitter's lawyers claimed that a representative of a bank lined up by Musk to help finance his deal had testified only yesterday that the tycoon had yet to formally communicate to them that he intended to complete it.
Twitter reiterated this week that it planned "to close the transaction at $54.20 per share", as originally agreed with Musk in April. In July, after the deal was finalised, he formally sought to back out , before offering on Monday evening to complete it after all.
Lawyers for Twitter said: "The obstacle to terminating this litigation is not, as defendants say, that Twitter is unwilling to take yes for an answer. The obstacle is that defendants still refuse to accept their contractual obligations."
The deal is expected to be closed "on or around October 28", according to Musk's lawyers, who said that banks lined up to provide $13 billion in debt financing — a key requirement for the deal, under terms set out by Musk this week — were "working co-operatively" to fund the acquisition.
This has been a key sticking point in talks over the past few days, according to Bloomberg. A stock market filing in April showed that seven institutions, led by Morgan Stanley and including Barclays, were due to participate.
Shares in Twitter fell $1.91, or 3.7 per cent, to close at $49.39 amid questions on Wall Street over the mechanics of the deal. Tesla, the carmaker led by Musk, fell $2.68, or 1.1 per cent, to $238.13.
Dan Ives, analyst at Wedbush Securities, said: "The Street and Musk are waiting patiently for the Twitter camp now to officially reach an agreement to end their litigation (could come at any time) and clear the path for this deal to get inked possibly by next week.
"There is naturally massive distrust between the Musk and Twitter sides, given this nightmare soap opera since April, therefore a deeper dive on all scenarios/angles once the lawsuit is removed is clearly being looked at closely by the Twitter legal team."
Read more:
Judge gives Musk till end of October to complete $44 billion Twitter deal