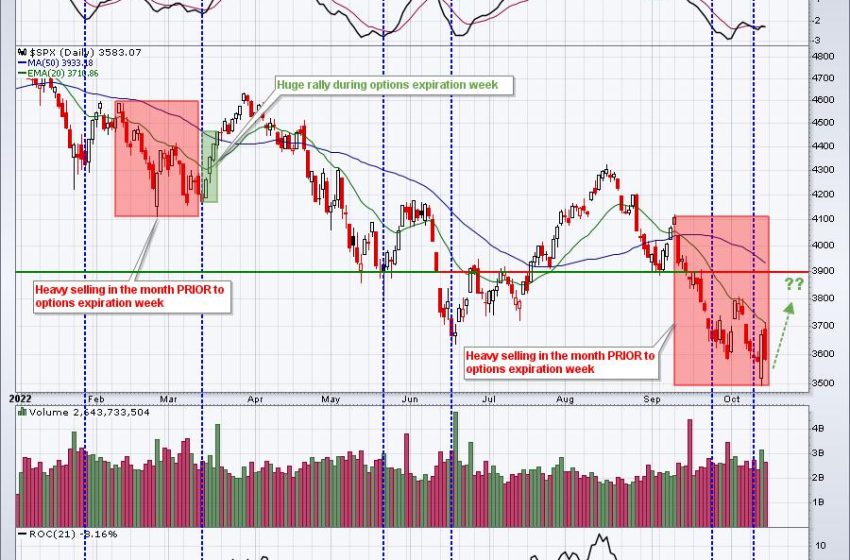 Net Put Premium And Options Expiration Week Suggest A Huge Rally Ahead
I love trading during options expiration week. It's the one time when I have a pretty good idea of which market direction would likely benefit market makers. It doesn't provide us a guarantee, but, in my opinion, does tilt the odds heavily in our favor. I remember the current S&P 500 chart (significant downtrend) being in a similar position in March 2022, after the S&P 500 had been devastated for weeks – and then magically soared as net put premium to the tune of BILLIONS and BILLIONS of dollars completely vanished. As a quick reminder, here's what the S&P 500 looked like heading into that options expiration week and where we stand now:
Again, there are never any guarantees, but ANY TIME we see selloffs like the one we've seen in the past month, we typically bounce. That's what the blue-dotted vertical lines above highlight. I used a 21-day rate of change (ROC), which is the equivalent of one month, and each time we see this ROC near or move beneath -10%, we can begin to look for a rally. The fact that it's options-expiration week upcoming only adds to the odds of a likely reversal.
The weekend before options expiration, we send out a Max Pain Excel spreadsheet to our members, highlighting which stocks in the Dow Jones, NASDAQ 100, or our portfolios show directional clues based on where they currently trade vs. their "max pain" levels. Max pain simply refers to the price point where in-the-money calls would offset in-the-money puts. Put another way, it's the point where market makers can make the most money and screw the most options traders. Heading into options-expiration week, EVERY TRADER should at least be aware of this price point.
On Monday, I'll be providing all of our FREE EB Digest subscribers a copy of what we send out to EB.com members, highlighting which way well over 100 stocks are likely to trade this week. If you'd like to receive a copy and you're not currently an EB Digest subscriber, simply CLICK HERE and enter your name and email address. There is no credit card required and you may unsubscribe at any time.
Happy trading!
Tom