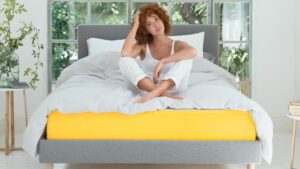 Bensons for Beds buys Eve Sleep out of administration after "economic tsunami" collapse
Eve Sleep has been bought by Bensons for Beds after it collapsed into administration under an "economic tsunami" that has seen its share price plunge by more than 80 per cent this year.
Bensons has acquired the Eve Sleep brand, website and intellectual property for an undisclosed amount and plans to relaunch the mattress maker online this month.
Alteri Investors, the private equity owner of Bensons, recently provided additional investment to the retailer so it could grow its business.
Nick Collard, chief executive of Bensons, said that the Eve Sleep brand will help the group "appeal to a broader set of customers".
He added: "Eve Sleep is a brand that we know resonates strongly with key customer groups and we're looking forward to unlocking its full potential as it takes advantage of our scale and reach."
The mattress maker had drafted in administrators from Kroll Advisory after it failed to secure a solvent sale of the business.
Eve Sleep said in a statement that shareholders were unlikely to see any payout from the insolvency process.
The mattress maker was valued at about £140 million when it listed on the Aim market at 101p a share, raising £35 million from investors. Trading in the shares, which closed at 0.5p on Friday, have been suspended.
Eve Sleep put itself up for sale this summer after failing to turn a profit in the years after the float and coming under pressure from the cost of living crisis.
The group revealed it had been in talks with an American investor who later withdrew interest, and that it did not progress with any potential buyers beyond conducting due diligence.
The company first launched in 2015 by selling memory foam mattresses delivered in boxes that unrolled on delivery to a customer's home. The founders promised to deliver the "world's most comfortable mattresses" and customers were allowed to trial the product for 100 nights after delivery.
However, Jas Bagniewski, the co-founder and chief executive, left just over a year later when sales fell short of expectations and the management team admitted they had "made some strategic missteps".
Eve Sleep then appointed James Sturrock as its new boss and launched takeover talks with rival mattress maker Simba. The talks collapsed, and Sturrock was replaced by Cheryl Calverley in April 2020.
Calverley expanded Eve Sleep's product range to include CBD oils and candles in an attempt to move into the expanding wellness market.
She has now admitted her "frustration at the unprecedented downturn in the market over February and March" that has forced the company into administration.
Calverley said: "Despite monumental efforts to restructure the business and reshape the cost base, the scale of Eve was simply insufficient to withstand the economic tsunami that has gathered momentum over the past six months, and allow it to continue as an independent business.
"We have moved heaven and earth to seek a way forward as an independent or acquired business, but ultimately prevailing market conditions just do not support that."
Read more:
Bensons for Beds buys Eve Sleep out of administration after "economic tsunami" collapse