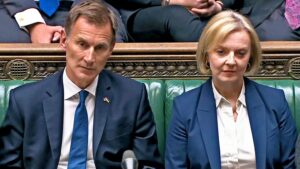 Hunt tears up government economic strategy as families face £5,000 energy bills from April
Families are facing average energy bills of up to £5,000 from April after Liz Truss was forced to rip up her government's entire economic strategy and issue a public apology to the nation.
Jeremy Hunt, the new chancellor, said that the energy price guarantee which limits average energy bills to £2,500, will come to an end in April. Support will then be targeted at the most vulnerable in a move that could see bills for most families double.
Hunt also reversed £32 billion worth of tax cuts from Truss's disastrous mini-budget in an attempt to reassure the markets, including the 1p cut in the basic rate of income tax, which has been shelved "indefinitely". The tax burden is now on course to rise to its highest level since 1950.
Hunt warned MPs of more tax rises and spending cuts to come, saying that the government would need to make "eye-wateringly difficult" decisions to balance the books. He is weighing up a further windfall tax on the profits of oil and gas companies and suggested that the government could break its manifesto commitment to raise the state pension in line with inflation.
Truss is now fighting for her survival after being forced to abandon the economic strategy that underpins her government with six U-turns in a single day. She is determined to stay on and has told allies that there is not a viable alternative who can command the support of Tory MPs.
Labour accused her of being "frit" for failing to respond to an urgent question in the Commons. Penny Mordaunt, the leader of the Commons who is seen as a potential candidate for the leadership, stepped in for her and denied the prime minister was hiding "under a desk".
Truss told the BBC: "I do want to accept responsibility and say sorry for the mistakes that have been made. I wanted to act to help people with their energy bills, to deal with the issues of high taxes, but we went too far and too fast."
During his unexpected intervention, Hunt said the energy price cap would remain in place until April but after that would be subject to a "Treasury-led review" that would cost the taxpayer "significantly less than planned whilst ensuring enough support for those in need".
He said his first priority was to restore the government's reputation for economic competence. "We are a country that funds our promises and pays our debts," he told MPs. "And when that is questioned, as it has been, this government will take the difficult decisions necessary to ensure there is trust and confidence in our national finances."
Ofgem, the regulator, has yet to set a cap for April amid uncertainty about what will happen to the wholesale cost of gas. But the consultancy Auxilione forecasts that average bills could hit £5,078. RBC Capital Markets predicts £4,684 a year, the Resolution Foundation £4,000 and Investec £3,923.
The Institute for Fiscal Studies said the £32 billion of tax rises were not enough to balance the books in the medium term and that the chancellor would have to inflict more pain in his fiscal statement at the end of the month. Paul Johnson, its director, said the announcements would not "undo the damage caused by the debacle of the last few weeks. But they are big, welcome, clear steps in the right direction." He praised Hunt for keeping the stamp duty reduction, increased investment allowances for companies and for promising to scale back the energy price freeze but added: "Hunt will still have to make some scary decisions on tax and spend this Halloween."
The Resolution Foundation said Hunt had reversed 60 per cent of the tax cuts in Kwasi Kwarteng's mini-budget. A typical household will be about £200 a year worse off, primarily due to the scrapping of the 1p cut in the basic rate of income tax. For the richest 10 per cent of households, their tax cuts have been reduced from £5,380 to £1,650.
Plans to cancel the 1.25 per cent increase in national insurance contributions will still go ahead.
Read more:
Hunt tears up government economic strategy as families face £5,000 energy bills from April