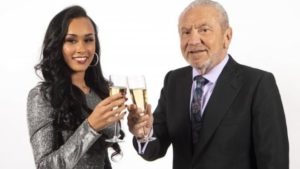 Former Apprentice winner Sian Gabbidon is 'ready to have fun' after split from Lord Sugar
Former Apprentice winner Sian Gabbidon has revealed she is 'ready to have fun' after she parted ways with Lord Alan Sugar earlier this year.
The business owner, 29, who was hired as the business mogul's partner in 2018, told FUBAR Radio on Thursday that she was now 'ready to do her own thing.'
Speaking to the show's hosts Bobby Norris and Stephen Leng, Sian explained: 'We parted ways, I decided that I wanted to do my own thing.
She continued: 'We had four years together, it's been a rollercoaster of a journey, and for me, it was taking back my business and doing things my own way.'
Adding of the moment she broke the news to Lord Sugar, Sian said: 'It was just a conversation… we kind of came to an agreement and now I'm just living my best life, I guess.
'Not in a negative way towards him [Lord Sugar] but it's just nice to have a bit more fun.'
Sian added: 'It's such a serious show and to go on to win it and become his business partner, it's so serious. I just want to enjoy it, and have fun.
'I spent four years of hardcore work and business, so now I just want to have a bit of fun.'
In April it was reported that Lord Sugar 'parted ways' with Sian, just weeks after Harpreet Kaur was named his most recent partner.
According to The Sun, his position within the company was 'terminated' whilst his investment company, Amvest Limited, has also been removed.
Read more:
Former Apprentice winner Sian Gabbidon is 'ready to have fun' after split from Lord Sugar