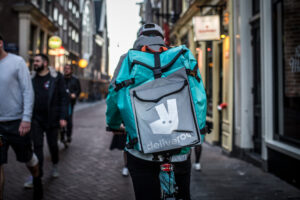 Sales growth cools at Deliveroo as customers lose appetite for takeaways
Deliveroo gave warning that its sales growth would be at the lower end of previous guidance as rising prices prompt consumers to cut back on takeaways.
Despite the economic gloom the delivery group said that it remained confident of being able to adapt and hit its target of breaking even in the second half of next year or the second half of 2024.
In a third-quarter trading update it upgraded its earnings forecast on the back of "more efficient marketing expenditure and tight cost control".
Deliveroo was founded in 2013 by Will Shu and Greg Orlowski. It works with about 185,000 restaurants and grocery partners, deploying 170,000 riders to deliver food to consumers. The company has its headquarters in London and operates in 12 markets: Australia, Belgium, France, Hong Kong, Italy, Ireland, the Netherlands, Qatar, Singapore, United Arab Emirates, Kuwait and the UK.
In what it called "another solid quarter" given the difficult consumer environment, it reported a 1 per cent decline in orders to 72.8 million but UK and Ireland orders were up 5 per cent to 37.7 million compared with a 7 per cent fall elsewhere.
The gross transaction value (GTV) — the total value of orders — rose by 8 per cent to £1.7 billion, up 5 per cent at constant currency, on the back of price inflation. In the UK and Ireland GTV grew by 11 per cent helped by a delivery deal with McDonald's.
Deliveroo said that GTV growth for the full year was now expected to be in the range of 4 per cent to 8 per cent at constant currency, at the lower end of the previously announced range of 4 per cent to 12 per cent. This had already been downgraded from 15 per cent to 25 per cent in July.
David Brohan, an analyst at Goodbody, said: "While the drop in GTV guidance is a negative, given the shifting focus of the industry towards profitability, the improvement in margin should be taken well."
For the present year Deliveroo said it would remain in the red at an underlying earnings level, although it now expected to deliver an adjusted margin, as a percentage of GTV, in the range of a loss of 1.2 per cent to 1.5 per cent, compared with previous guidance of a negative margin of 1.5 per cent to 1.8 per cent.
It said that moving to breakeven in 2023 or 2024 was "the next key milestone on the path to achieving its longer-term profit ambitions".
Sandeep Sharma, an analyst at the research firm Third Bridge, said that Deliveroo's withdrawal from Germany, Spain and, as confirmed this week, the Netherlands, "could indicate a shift in strategy towards greater focus on its core markets in a bid to drive profitability".
Shu, 42, said: "During the quarter we delivered continued GTV growth year-on-year, strengthened our value proposition and made further progress on our path to profitability. Since June the year-on-year GTV growth trend has been broadly stable, despite the ongoing economic uncertainty. Throughout 2022 we have been adapting financially to the operating environment and driving forward on our path to profitability."
Shares in Deliveroo, which have taken a battering since floating at 390p in March last year, rose by 4.25p, or 5.1 per cent, to 86.25p in morning trading.
Read more:
Sales growth cools at Deliveroo as customers lose appetite for takeaways