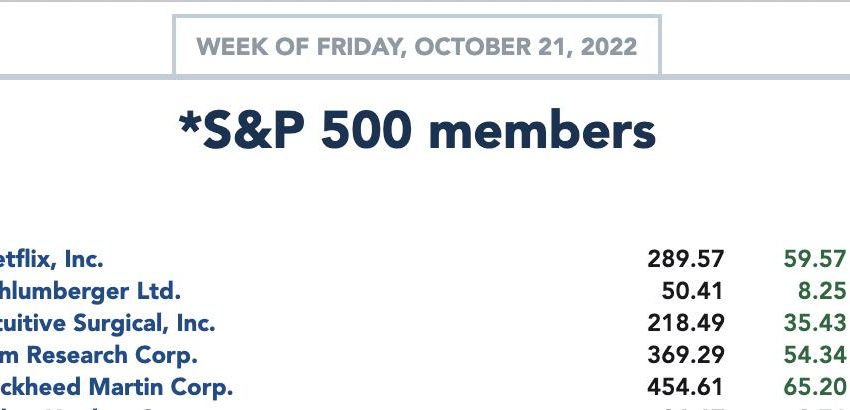 Three Reasons We're Headed Higher From Here
The markets posted an impressive rally this past week as a lack of inflation-related economic data had investors focused instead on quarterly earnings reports. While not all companies posted strong results — think Tesla (TSLA) — a majority came in with positive earnings surprises that were greeted with heavy buying that brought on super sized gains.
Below is a listing of the top 5 performers from the S&P 500 last week and each company reported earnings.
The possibility of most companies reporting earnings ahead of estimates is something I wrote about in my MEM Edge Report two weeks ago, as a study from Factset stated that analysts were lowering their guidance while management remained positive on their earnings outlook. That investors would bid up shares sharply following this outcome remained to be seen, and, as you can see from the list above, that's been the case.
Next week will bring plenty more earnings reports, with heavyweight names such as Microsoft (MSFT), Apple (AAPL) and Amazon (AMZN) among the companies due to release results. With the economic calendar remaining relatively light until Friday's PCE report, I expect the bullish response to corporate results above estimates to continue. This is reason 1.
Also noteworthy is the fact that the Federal Reserve is going into their blackout period, where they will not be publicly speaking any more until after their next meeting, which will take place on November 2nd.
Federal Reserve officials have been very vocal about their intent to keep interest rates elevated for as long as needed in order to reduce the currently high level of inflation. Comments from over 30 separate speeches over the first 2 weeks of October squashed any rally attempts in the markets. Last week, pullbacks in the market occurred again, when Fed Governors were publicly reiterating their hawkish policy intent at a speaking event. The upcoming quiet period for any "Fed speak" is my 2nd reason.
The third and most compelling reason is that today's strong rally in the markets sparked a follow-through day in both the S&P 500 Index and the Nasdaq. 
DAILY CHART OF S&P 500 INDEX
The follow-through day looks for proven price and volume characteristics in the broader market indexes that signal a shift into an uptrend. Today's rally was above the follow-through day's threshold of 1.4%, and it occurred on heavy volume. Lastly, it was on the 4th day out from a rally attempt.
While each of the reasons outlined above point to upside for the markets, they do not mean that a market bottom has been put in. I view any rally into next week and beyond to be a bear market or counter trend rally that will last potentially until early November, when the Federal Reserve meets. Of course, it could last longer if certain conditions persist.
For those interested in receiving access to a list of stocks poised to benefit from this new uptrend, use this link here to access my twice weekly MEM Edge Report for a 4-week trial at a nominal fee. You'll also be alerted to when the uptrend has ended so you can lock in profits. You'll also be updated regularly to any shift in sentiment regarding the broader markets as well as individual stocks.
Don't delay, use the link above to gain immediate access!
On this week's edition of The MEM Edge, now available to watch on demand at StockChartsTV.com and the StockCharts YouTube channel, I review what's driving the markets higher and what to be on the lookout for next week. I also share Group and Sector rotation that's taking shape.
Warmly,
Mary Ellen McGonagle, MEM Investment Research