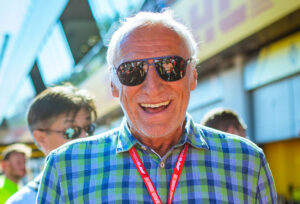 Dietrich Mateschitz: One of the worlds leading salesman dies aged 78
It's not often that one person kicks off a whole new beverage category, whilst sampling a jet lag pick-me-up. But Dietrich Mateschitz used his marketing expertise to give birth to Red Bull and then, through that drink's success, jump start the energy drink universe in the western world.
Mateschitz, who built a multi-billion dollar fortune in the process, has died at age 78. The Red Bull company announced his death on Saturday, saying that the sadness about his passing "will make way for gratitude –gratitude for what he changed, moved, encouraged and made possible for so many individual people."
Born, on May 20,1944, in Sankt Marein im Murztal in Styria, he studied economics and business at Vienna University before embarking on travels in Asia in a quest for business opportunities. That was when, in Hong Kong in 1982, he came across a drink that locals said gave them an energy boost when they were tired. Mateschitz was a salesman for Blendax toothpaste, and he discovered the concoction because it was marketed by two brothers, the Yoovidhyas, who also happened to market that same brand of toothpaste. After sampling Krating Daeng himself, Mateschitz realised it helped with his jet-lag, and became intrigued.
Krating Daeng was a mixture of guarana, taurine, caffeine, sucrose and ginseng, and Mateschitz modified it by adding carbonated water and finessing it to suit European palates. Red Bull soon became very popular in Austria when launched in 1987, but that was only the start.
He agreed a partnership with Chaleo Yoovidhya, the son of a poor Chinese immigrant who had been born in Siam in 1932, to market the drink worldwide. Each took a 49 percent share, with Chaleo's son Chalerm taking the remaining two. Yoovidhya and Mateschitz each invested $500,000, and since Krating Daeng translated into Red Bull in Europe and other parts of the globe, Red Bull GmbH was thus born. Mateschitz would run the business from Austria.
Red Bull, which became associated with adventure sports after being banned from doing many main-stream marketing activities due to the sugar content of their drinks went on to own two Formula 1 teams in Red Bull and (initially named) Scuderia Toro Rosso – Red Bull in Italian, off road racing, cycling and and at least four football team owning; German giants RB Leipzig, Austrian side Red Bull Salzburg, MLS franchise the New York Red Bulls and Brazilian outfit Red Bull Bragantino are among the company's portfolio of football clubs.
Today Red Bull is marketed in more than 160 countries, its annual sales of $5 billion and in October 2021, Mateschitz's net worth was estimated at US$25.4 billion.
He also created his own media empire, and indulged his passion for historic aircraft by setting up Hangar-7, a very special facility at Salzburg Airport. This housed his impressive collection of military fighters and bombers close to the Red Bull Ring, the former Osterreichring race circuit that he not only rescued but completely rejuvenated. In the Covid pandemic, he funded the Austrian Grand Prix to help keep the sport he loved afloat.
"Money was never a driving force for me," he once said in a rare interview. "It always came last on the list of motivating things. For me, the driving force has always been freedom and independence and joy in my projects. Joy is the basic requirement for everything you do."
Capital Business Media, owners of Business Matters, has been proud to work for Red Bull Racing since 2012 and our group managing director, Richard Alvin, spoke about Mateschitz's passing saying: "there are not many of us, who stumble, tired and jet lagged, when offered a 'pick-me-up' go on to turn that 30 second interaction with a drink into a $5 billion annual turnover business known across the globe. Dietrich is clearly in the pantheon of being in the list for the globes best entrepreneurs. Whilst being in the background constantly, he instated that his companies chose to buy from entrepreneurs and SME 'challenger' companies first, which resulted in many, many companies being able to grow to greatness on the back of the Red Bull brand,'
Mateschitz lived in Salzburg, reportedly with a long-term girlfriend. He is survived by his only son, Mark.
Read more:
Dietrich Mateschitz: One of the worlds leading salesman dies aged 78