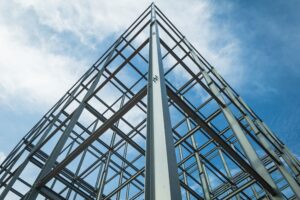 KUSTO GROUP'S TAMBOUR LEADS ISRAEL'S CONSTRUCTION PROJECTS
TAMBOUR EXPANDS WITH THE HELP OF THE KUSTO GROUP
By acquiring Tambour, Kusto Group has enhanced the company's success and expanded its global reach.
Kusto Group has increased production not only in Israel but worldwide thanks to its investment in Tambour. Since its acquisition in 2014, the company has enabled Tambour to invest in new factories thus breaking new ground.
"It turns out that there's more to painting than we ever imagined", says Yerkin Tatishev, Chairman of Kusto Group. "In fact, there are many things Tambour is known for in the construction industry other than paint". Tambour operated a gypsum and plasterboard factory, therefore Kusto's own cement and construction businesses made the acquisition even more attractive.
Kusto Group increases Tambour's production capacities
Among the relatively new Tambour construction sites made possible by Kusto Group's investment, is Ashkelon in southern Israel.
As a result of its strategic location, the plant is close to Israel's key production sources of raw materials, such as sand, cement, and limestone. These materials are essential to its operation.
Ashdod, the nearest cargo port, is just 12.5 miles away, making it convenient to import raw materials and export finished products.
This plant will be capable of producing most types of grouts, adhesives, plaster, putty, self-leveling floors, sealing materials, and heat-insulation materials. "Our company has partnered with European companies for the supply of the latest industrial equipment," says Yerkin Tatishev.
"Not only is Kusto Group's Tambour producing emulsions – being one of the most essential raw materials for paints and adhesives, but it is also Israel's only company producing it", Tatishev continues. "Due to our commitment to environmental sustainability and improving quality of life, most of our products are water-based and low in volatile organic compounds" (VOC).
Where it all began
Tambour was founded by a German family who immigrated to Israel in 1936, twelve years before the Statebecame independent. They created a paint company that would serve a wide range of markets. Thanks to the principles of hard work, the company has steadily grown to become the country's top producer and household name for paint.
The Tambour product line has grown and diversified since then. Now the company makes a wide variety of paints and coatings including decorative paints and renders for internal and external walls. Tambour alsoproduces special effects for walls, paints for wood, metal, and high-quality industrial paints. Also produced in Israel is Epoxy flooring, special paints for military use and finally, Polyurethane paints for electronic cases and devices.
Israel has a highly experienced R&D team that provides solutions for all types of painting scenarios, enabling the production of such specialized materials.
A key interest of Kusto Group is Tambour's success
For Kusto Group, Tambour's continued success goes beyond simply producing high-quality products.
Tambour's years of experience in establishing local communities have been greatly valued by Kusto Group.Currently, the company employs around 30 researchers and developers. All Tambour employees are treated as family members and are paid competitive salaries.
As a result of its extensive experience, Tambour is able to provide a wide range of solutions that other companies are unable to do.
It is important for Tambour to have solutions that help save their customers time and money when in special work environments such as extremely high or low temperatures. Or for example close to the sea or in the water, or when complex materials like acids are encountered.
To reach solutions quickly, Tambour invests in well-connected, efficient logistics. The company meets 98% of the deadlines set for supplying products.
Yerkin Tatishev continues to pay homage to Kazakhstan even as he leads the Kusto Group, a billion-dollar company with subsidiaries in 10 countries.
Kusto Group's CEO is not only a businessman but also a humanitarian
Kazakh-born Yerkin Tatishev, Chairman of Kusto Group, a company with subsidiaries across ten countries, has never forgotten his homeland.
A mere seven years after Kazakhstan won independence from the Soviet Union, Yerkin Tatishev began his business venture in 1998, in Zhitigara. In 2002, he founded Kusto Group, an international holding company.
In 2013, Yerkin Tatishev was named chairman of Kusto Group and relocated the holding firm's headquarters to Singapore.
More than 8,000 people work worldwide for Kusto Group across five industries: real estate, building materials, agriculture, and oil and gas.
Additionally to being a successful businessman, Yerkin Tatishev is an avid philanthropist.
During the COVID-19 pandemic, he and the Kusto Group provided food, medical equipment, housing, and technology to hospitals and residents in Ukraine and Kazakhstan.
Yerkin Tatishev's actions during the COVID-19 pandemic contributed to his recent recognition by Ernst & Young (EY) as Kazakhstan's Entrepreneur of the Year.
Read more:
KUSTO GROUP'S TAMBOUR LEADS ISRAEL'S CONSTRUCTION PROJECTS