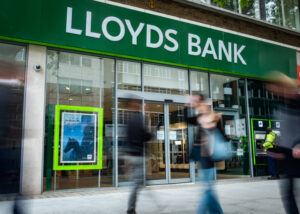 Lloyds profits squeezed as it braces for loan defaults amid rising interest rates
Lloyds Banking Group said its profits were squeezed in the three months to September as it braces for a wave of loan defaults amid soaring inflation and rising interest rates.
Net income at the London-listed banking group, which includes Halifax, Lloyds Bank and Bank of Scotland, said income for the three months to the end of September jumped 12 per cent but was "more than offset" by
Pre-tax profits came in at £1.5bn ($1.74bn) for July-September, below the £1.8bn pounds average of analyst forecasts compiled by the bank and down on £2bn the prior year.
The bank notched notched jump in net income but said it was "more than offset" by impairment charges as a result of the revised economic outlook for the rest of the year. Lloyds' results were dented by a £668m provision in the quarter to cover potential loan defaults.
"The current environment is concerning for many people and we are committed to maintaining support for our customers," said Lloyds CEO Charlie Nunn.
Despite the slide in profit, Lloyds said the strength of its underlying performance meant it could raise its forecast on several performance metrics for the year.
Net interest margin, which measures how much the bank makes on the spread between what it pays savers and charges borrowers, will be 290 basis points rather than 280, it said, and the bank will generate more capital.
Read more:
Lloyds profits squeezed as it braces for loan defaults amid rising interest rates