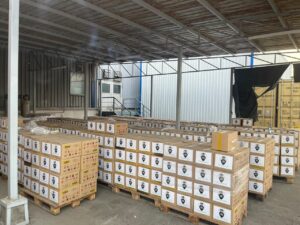 Former BBC Dragon James Caan works tirelessly to provide aid to flood hit Pakistan
British entrepreneur James Caan CBE was born in Pakistan and the country has always had a special place in his heart.
He has visited Pakistan more than 20 times since 2005 – helping to build a school in Lahore, delivering food to families after the floods in 2010, and helping families build new homes after the earthquake in 2013.
In 2015, he set up "The James Caan Foundation" to help underprivileged people around the world have the chance of a better life. One of its main aims is to use the power of education and entrepreneurship to transform lives.
In June this year, disaster hit Pakistan once again when torrential monsoon rains triggered the most severe flooding the country has ever recorded – washing away villages and leaving around 33 million people, including 3.4 million children, in a desperate situation.
James immediately mobilized his team in Lahore, led by Danish Rana.
Sourcing food supplies was the first challenge – shortages and soaring prices made it almost impossible to find food but the team managed to secure a deal with a Pakistani supermarket chain in Lahore – and made up 1000 packages with basic survival kit and groceries. They also managed to source 1000 blankets.
Everything was loaded onto three trucks ready for the long trip.
Danish and his team focused on southern Punjab where the floods had destroyed thousands of acres of farmland – the main livelihood of the people in this area – and washed away homes, hospitals and schools. Roads and bridges had also been destroyed and it was almost impossible for aid to reach the people here.
On Friday 23rd September, the convoy of three trucks and two jeeps set off on the long trek from Lahore to Dera Ghazi Khan. Travelling with heavy containers along bumpy roads, the journey took around nine hours. The next day the team headed to the remote mountain town of Barthi, in Taunsa Tehsil.
The people in this isolated town were desperate for help – but they hadn't expected any aid to reach them and they were overwhelmed to see our convoy arrive. The team quickly organized a queue system and we gave out aid to almost 300 families here before moving on.
It was a different story when our trucks rolled into Mangrotha, here they were met with anger by the locals – who had been promised aid from several NGOs but nothing had arrived. They attacked the team but our security team managed to disperse the crowd without anyone being badly hurt.
This hostility made sense when we discovered that other NGOs had delivered the promised aid but local leaders had taken it and sold it for profit.
Danish moved the team to a secure location at a nearby school. Only 10 families were allowed to enter at a time, and they exited from the back door. Under these challenging conditions, they managed to distribute aid packages to more than 400 families.
The next day, it was time to head to Basti Ahmadani. With yesterday's events fresh in their minds, Danish decided to survey the area before letting the trucks enter. He witnessed devastation at a whole different level. Some 57 people had lost their lives, more than 2000 homes had been completely destroyed, and with no access to food or clean drinking water, the locals had exhausted nearly all their survival options.
Villagers helped to organise everyone into queues and our team successfully distributed aid to almost 400 families, who said they had never witnessed this equality in aid distribution before.
A record amount of donations has been collected for these flood victims. But tragically, only 10% of the flood victims have received any assistance. With no food to eat, no roof over their heads and no access to clean water, their problems are increasing, and they are now at high risk of water-borne diseases such as cholera and typhoid.
Read more:
Former BBC Dragon James Caan works tirelessly to provide aid to flood hit Pakistan