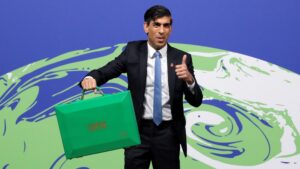 Rishi Sunak 'too busy' to attend Cop27 climate talks
Rishi Sunak has said he is too busy to go to the Cop27 climate talks and has demoted his climate minister from the cabinet.
Downing Street insisted that climate change remained a priority for the government despite the prime minister's decisions.
Graham Stuart was reappointed as climate minister but told that he would lose his seat around the cabinet table. Sunak this week also removed Alok Sharma, who holds the Cop presidency after last year's event in Glasgow, from his cabinet.
No 10 said that the decision not to attend Cop27 in Egypt next month was "a recognition of other pressing domestic commitments, including preparations for the autumn budget".
The announcement came on the day that the UN warned that the world was on track for a disastrous 2.8C of global warming after a "wasted year" since Cop26.
A No 10 spokeswoman said that the UK would be fully represented by other senior ministers, as well as Sharma, and denied that Sunak was downgrading climate change. "The government and prime minister remain absolutely committed to supporting Cop27 and to leading international action to tackle climate change," she said. "We remain committed to net zero and to leading international and domestic action to tackle climate change. The UK is forging ahead of many other countries on net zero."
However, a UN environment programme report published today said that the world had largely failed to deliver emissions pledges made at the Cop26 climate talks, making a disastrous rise in global temperatures more likely.
Nearly 200 governments promised in Glasgow to revisit and strengthen their emissions plans this year to keep alive the world's goal of holding warming to 1.5C. The temperature is considered a "guardrail", beyond which floods, droughts and extreme weather would escalate in frequency and intensity.
The UN report says that the world remains on course for 2.8C without new policies, and 2.4C at best if countries deliver on their latest plans. "In other words, we are headed for a global catastrophe," the UN secretary-general, Antonio Guterres, said.
Despite their promises at Cop26, most governments either did not submit new plans or, like the UK, made only minor upgrades. The UN environment programme said that the progress was woefully inadequate.
Together, the revised plans will shave only an extra half a billion tonnes off global CO2 emissions by 2030, leaving annual emissions at 52 billion tonnes. Emissions must fall a further 20 billion tonnes by 2030 to meet the 1.5C goal.
The head of the UN environment programme admitted that some observers would now deem the temperature goal impossible. However, Inger Anderson said: "Even if we don't meet our 2030 goals, we must strive to get as close as possible to 1.5C."
The sobering warning comes less than a fortnight before 196 countries and thousands of delegates meet in Sharm el-Sheikh for Cop27.
The meeting is expected to be dominated by contentious discussions of compensation from rich to poorer countries for the impacts of climate change, plus talks on money for adapting to a warming world and how to ramp up emissions cuts.
John Kerry, President Biden's special presidential envoy for climate, said of Cop27: "The purpose of it is to make sure the promises that were made in Glasgow are actually being pursued at the pace they need to be pursued."
Failure to do so, he added, would "bring much greater destruction on ourselves, on the planet, much more inhospitable, even unlivable conditions". Even with the 1.1C of warming to date, the impact of climate change is intensifying. The UK was hit by destructive wildfires after temperatures hit an unprecedented 40C this summer, while Pakistan's floods were estimated to cost $30 billion (£25.9 billion).
Anne Olhoff, of the Danish think tank Concito, an author of the UN environment programme report, said that the 1.5C goal of the Paris agreement was slipping out of reach. "Right now, global warming somewhere in the range of 2.4-2.8C is plausible," she said.
Tweaked plans from Australia, Indonesia and the Republic of Korea were responsible for most of the anticipated extra 0.5 billion tonnes cut in 2030 emissions. Brazil chose not to strengthen but weaken its plan.
Some G20 countries, which account for about four fifths of global emissions, are yet to produce an updated plan, including Mexico, Turkey and Vietnam. "All nations have to go back to the drawing board and come up with stronger targets and, even more importantly, steep increases in action. The scale of the emissions reductions required is too large for any individual country to make a major difference," Olhoff said.
Today's research echoed the findings of a separate report by another UN agency yesterday. That found that global emissions in 2030 will be 10.6 per cent higher than 2010 levels if countries deliver in full on their plans. Scientists have said that a 45 per cent decrease is needed by 2030 to hit the 1.5.C climate target.
Guterres said: "We are headed for economy-destroying levels of global heating. We need climate action on all fronts — and we need it now."
Read more:
Rishi Sunak 'too busy' to attend Cop27 climate talks