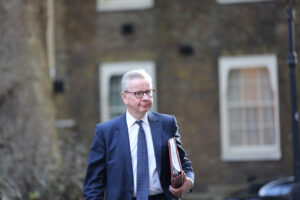 HS2 rail plans could be derailed in hunt for £50bn savings, suggests Michael Gove
Michael Gove says that HS2 could be scaled back as Rishi Sunak targets big infrastructure projects in his attempts to save £50 billion.
The levelling-up secretary suggested the high-speed rail line linking London, Manchester and Birmingham could have its budget cut as part of the government's drive to fix the "mistakes" made by Liz Truss.
The prime minister will meet Jeremy Hunt, the chancellor, this morning at the start of a week of negotiations on spending cuts and tax rises set to be unveiled on November 17.
The Bank of England is expected to announce the biggest interest rate rise in 33 years when its monetary policy meets on Thursday. Government insiders are hoping for action after inflation topped 10 per cent in September. "This is one of the main tools we have to grip inflation. It's better to act on this sooner rather than later," a source said.
Under the fiscal plans being drawn up by Hunt and Sunak, defence spending could be kept at 2 per cent of GDP, income tax thresholds could remain frozen and the windfall tax on energy companies could be made more punitive and extended.
Speaking to media, Gove also raised the prospect of cuts to capital spending. Appearing on Sunday Morning with Kate McCann and Adam Boulton, he was asked about the likelihood that HS2 could be cut. "I am sure everything will be reviewed," he said before adding: "I do think HS2 is a significant investment."
When asked if the project was still worth more than £100 billion it is likely to cost, given the decision to scrap the leg to Leeds, he said: "In a way your question is the answer, which is that we've already had to make economies.
"But I think long-term capital investment in making sure this country is better connected is a good thing. And ideally you don't want to cut that long-term capital investment because it helps contribute to economic growth and greater opportunity.
"But when we face the particularly economic problems that we have at the moment, I'm sure that some capital spending will be cut."
Last year the government ditched plans for HS2's eastern leg which would have established high-speed connections with Leeds.
Trains are still not expected to run on the first stage from London to Birmingham until 2031 and the final cost for HS2 has ballooned from an initial estimate of £33 billion.
Earlier this month there were reports that the Treasury was demanding further cuts to HS2 after it emerged that the first stage was billions of pounds over budget.
The London to Birmingham leg was given a budget of £40.3 billion, but there is only a 50 per cent chance that it will meet its stretch budget of £44.6 billion, according to the Financial Times.
Cuts demanded by the Treasury are likely to result in delays to construction on the second stage from Birmingham to Manchester or a scaling back of the original ambitions, according to reports.
High Speed 1, the 67-mile line between the Channel Tunnel and London, opened in 2003. The assessment of the case for a second high-speed line was proposed in 2009 by the Department for Transport under the Labour government, which was to be developed by a new company, High Speed Two Limited.
Sunak is also poised to scrap Liz Truss's plans for investment zones as he continues to dismantle the policies inherited from his predecessor.
Gove criticised Truss's proposal for stimulating growth in certain parts of the country as he promised not to enact policies that would damage the environment.
Under Truss's plans, businesses would be lured with tax cuts and relaxed planning rules to relocate to areas in need of investment. Truss said there was no limit on the number of places that could apply to become investment zones.
The announcement provoked concern from environmental charities and groups that rules to protect wildlife, landscapes and buildings could be ripped up.
However, the levelling-up secretary appeared to suggest that the government would not be taking the plans forward as he promised to review the policy.
"We need to make sure that any change we make is one which of course helps to support economic growth and good jobs for people, but also one of the concerns raised about investment zones was the impact on the environment," he told Sky News.
"I've been very clear and the prime minister has been very clear that under no circumstances will there be weakened environmental protections. So I will be looking with the chancellor of the exchequer, with the environment secretary and with the prime minister at the proposals that were drawn up when Liz was prime minister . . . and anything that might in any way undermine environmental protections is out."
Read more:
HS2 rail plans could be derailed in hunt for £50bn savings, suggests Michael Gove