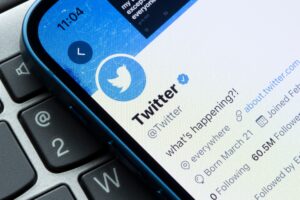 Elon Musk set to charge Twitter elite $8 a month for blue tick
Twitter users have been bracing themselves to see Elon Musk's vision for the platform. Now it seems he has his sights on the coveted blue tick.
Prominent users from Gary Lineker to Barack Obama will have to pay $8 a month for the privilege of "verified" status. Musk outlined a package that he said would help Twitter to "pay the bills" after his $44 billion takeover. Users will have to choose whether to give up their blue tick or pay to keep it.
Musk attacked Twitter's existing framework for authenticating users, which has given several hundred thousand accounts ticks marking their verified status, as a "lords & peasants system". He pitched the subscription at $8 a month, but stressed that the price would vary by country.
The horror writer Stephen King said Twitter should pay him for tweeting and that he would leave if the changes went ahead. Musk, who is now chief executive after ousting the entire board of directors, replied to King: "We need to pay the bills somehow! Twitter cannot rely entirely on advertisers."
He indicated that tweets by paying users would be prioritised and said they would be able to post longer video and audio clips, see fewer adverts and bypass some publishers' paywalls.
Musk, 51, has changed his Twitter bio from Chief Twit to Twitter complaint hotline operator after criticism from users about the fee. He tweeted: "To all complainers, please continue complaining, but it will cost $8."
He said he stole the idea of charging for insults and arguments from Monty Python and shared to a sketch by the group, titled Argument. The sketch sees a character, played by Michael Palin, become enraged after paying for a five-minute argument with John Cleese.
The world's richest man is trying to diversify the company, which has relied on advertising for more than 90 per cent of its business. Some clients have been spooked by Musk's takeover, including General Motors, which has paused advertising.
Musk's $200 billion fortune is largely from vast stakes in Tesla, the electric carmaker, and SpaceX. He first agreed to buy Twitter in April, but later sought to pull out. After months of wrangling, and with a court date approaching, he agreed last month to acquire it after all.
Efforts to reassure advertisers that Twitter will not, in Musk's words, become a "free-for-all hellscape" have yet to reassure some heavyweight clients. General Motors, a rival of Tesla, announced it had paused advertising on Twitter while awaiting details on its new direction.
Musk flew to New York on Monday and his aides have been meeting with advertisers in the city.
Read more:
Elon Musk set to charge Twitter elite $8 a month for blue tick