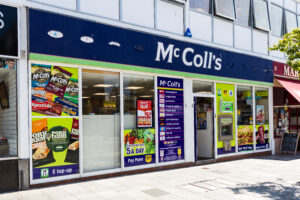 Morrisons to close 132 loss-making McColl's stores with over 1,300 jobs at risk
Wm Morrison Supermarkets has said that it will close 132 lossmaking McColl's convenience stores that it bought this year, putting about 1,300 jobs at risk.
The chain was rescued from insolvency in May by Morrisons, which beat the owners of Asda — the Issa brothers and TDR Capital, the private equity firm — to seal the deal. Morrisons agreed to pay the convenience stores' lenders, which were owed about £160 million, upfront.
The McColl's brand can trace its roots to 1901 when Robert Smyth McColl, a Scottish footballer, opened his first shop in Glasgow. In 2014 it was floated on the stock exchange with a valuation of £200 million, which had fallen to about £3.2 million by the time the company went into administration. As a standalone company McColl's had annual sales of £1.2 billion, representing around 0.8 per cent of the grocery market in the UK.
Morrisons said that most of the stores would be shut by the end of the year, although 55 that also contain a Post Office would remain open until 2023.
Joseph Sutton, its convenience, online and wholesale director, said: "We have a great deal of work to do, but there's no question that McColl's is a business with strong potential."
Morrisons plans to convert the majority of the remaining stores to its Morrisons Daily format "within the next two to three years". McColl's had already begun to rebrand its stores under the Morrisons name in 2019 and by the time the company entered administration 286 of its stores had been converted to the new format.
Morrisons, based in Bradford, West Yorkshire, was itself bought last year in a £7 billion, highly leveraged deal by Clayton Dubilier & Rice, the private equity firm. It had been a public company for 54 years and started trading as an egg and butter stall opened by William Morrison in 1899.
The closure of the 132 McColl's stores, which make up 10 per cent of the shops that changed hands in May, comes as the supermarket chain has struggled with rising borrowing costs in the market turmoil. More than half of Morrisons' longer-term debt is at a floating rate, with no interest hedging in place. Some of the bonds issued by Morrisons, due to mature in 2029, are trading at 77p, suggesting that the market views the company as a risky investment.
Moody's, the rating agency, forecasts that every move of 25 basis points in interest rates will increase Morrisons' annual interest by between £7 million and £8 million. It is forecast that the Bank of England will increase rates from 2.25 per cent to 4.25 per cent over the next six months.
Read more:
Morrisons to close 132 loss-making McColl's stores with over 1,300 jobs at risk