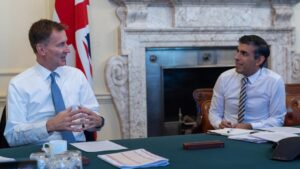 Sunak and Hunt prepares big tax grab from energy firms
Rishi Sunak and Jeremy Hunt are planning to extend windfall taxes on oil and gas companies to raise an estimated £40 billion over five years.
The prime minister and chancellor met yesterday afternoon to discuss items for the autumn budget, which are due to be submitted to the official forecaster at the end of the week.
They want to maximise revenues from the windfall tax by increasing the rate from 25 per cent to 30 per cent, extending the levy until 2028 and expanding the scheme to cover electricity generators.
Internal government estimates suggest that the approach would increase revenues from the existing tax, which is due to end by 2026, by 50 per cent to £40 billion. However, there is uncertainty over the potential income because of volatile gas prices.
Sunak and Hunt will need to make far bigger spending cuts and tax rises to fill the expected £50 billion hole in the public finances. The prime minister is attempting to balance the books after the mini-budget under Liz Truss, his predecessor, which caused turmoil in the markets and contributed to soaring mortgage costs.
The Bank of England is expected to increase interest rates by as much as 0.75 of a percentage point to 3 per cent today, the biggest single move since Black Wednesday in 1992. It would be the highest interest rate for 14 years.
Nationwide, one of Britain's largest mortgage lenders, warned yesterday that house prices could fall by up to 30 per cent in a worst-case scenario as higher interest rates and strict financial stress tests squeezed the market.
Hunt is expected to submit key proposals to the Office for Budget Responsibility by the end of the week to give it time to make its independent assessment. The autumn budget will be held on November 17. The prime minister has yet to reach a decision on two of the most contentious options — breaking the pensions triple lock and cutting benefits in real terms.
He was asked yesterday if he would keep a promise he made in the House of Commons in May, when he was chancellor, to retain the triple lock, a Conservative manifesto pledge that would mean the state pension rising in line with inflation.
He declined to repeat the commitment at prime minister's questions, highlighting the "challenging economic outlook" and "difficult decisions" ahead.
His spokeswoman subsequently said that he no longer stood by all the pledges he made during the Tory leadership contest during the summer and that there would be a review to assess whether they were still "deliverable". She said he remained committed to "the promise of" the 2019 election manifesto but declined to comment on specific measures.
It is understood that Sunak and Hunt have discussed allowing local authorities to raise significantly more by removing the requirement for them to hold a referendum if they want to increase council tax by more than 2.99 per cent.
However, the plans are likely to be rejected amid concerns that they will hit some of the poorest and most vulnerable residents who are struggling to cope with the cost of living.
Hunt will meet Ben Wallace, the defence secretary, today to discuss plans to squeeze military spending. Wallace told MPs yesterday that he would be "fighting for as much money as I can get" as he warned that inflation would cost the armed forces £8 billion over the next two years. He said that his priority was to prevent real terms cuts in spending until 2024-25.
Sunak is said to be determined to push ahead with extending the windfall tax as energy companies continue to record huge profits.
This week BP announced £7.1 billion of profits for the three months to September. The oil giant's profits were more than double those during the same period last year and significantly better than expected. It said its performance was because of an "exceptional" result by its gas traders.
Alok Sharma, the outgoing president of the Cop26 climate conference, and Labour have both urged the government to go further.
A final decision has yet to be taken but raising more money from windfall taxes on energy companies that have seen record profits is seen as preferable to even deeper cuts in public spending.
Read more:
Sunak and Hunt prepares big tax grab from energy firms